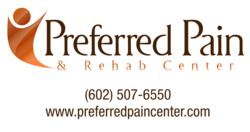 This is as cutting edge as it gets. A non-steroidal substance which contains stem cells with regenerative potential.
Phoenix, AZ (PRWEB) July 14, 2011
Regenerative medicine injections in the southwest have arrived. Preferred Pain Center is now offering amnion-derived non-steroidal stem-cell rich pain management injections. This represents a potential breakthrough in pain management for patients dealing with back, neck, arm, and leg pain.
For decades the gold standard in pain management treatment has been steroid injections for spinal or extremity pain issues. These cortisone injections work well with excellent results over 75% of the time. However, steroid injections do not alter the course of arthritis or soft tissue injury. They simply offer pain relief for a finite time period and then need to be repeated usually. In addition, there are significant limitations on the frequency with which corticosteroid injections may be performed due to potential adrenal gland problems and blood sugar issues.
For a long time, the holy grail for arthritis and soft tissue injury has been to find a cell regenerating injection substance which both relieves pain and helps regenerate bone or soft tissue. Steroid injections only help with the pain relief portion. The non-steroidal, anti-inflammatory, stem cell injections at Preferred Pain Center in Phoenix, AZ has the potential for cartilage and soft tissue regeneration along with offering pain relief.
"This is as cutting edge as it gets. A non-steroidal substance which contains potentially regenerative stem cells. Pain management has been looking for this combination of properties which can hopefully achieve pain relief and tissue regeneration. It's FDA regulated and also neither fetal nor embryonic. And it's available at Preferred Pain Center now," said David Greene, MD, CEO of the Center.
The non-steroidal stem cell therapy product is made from the amniotic fluid of live donors, and is neither fetal nor embryonic. It is processed and packaged at an FDA registered tissue bank that is ISO certified, AATB accredited, and adheres to Current Good Tissue Practice Standards.
The human amnion derived allograft has been used over 4000 times in the US over the past few years. Indications have included soft tissue injections, spinal fusion enhancement, wound healing, degenerative joint disease, joint injections, and injection around the spinal cord as a scar barrier. Adverse events with this potentially regenerative medicine substance have been minimal and results have been encouraging.
Preferred Pain Center is Phoenix and Scottsdale, AZ's most comprehensive and modern Arizona pain clinic. Treatment options at the center include Pain Medication Management, Interventional Arizona Pain Management, PT/Rehab, Phoenix Chiropractor, Spinal Decompression Therapy, and Manipulation Under Anesthesia.
Prospective patients with back, neck, arm, or leg pain should call (602) 507-6550 for scheduling or visit http://www.preferredpaincenter.com for more information.
###