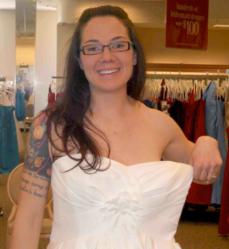 I feel amazing and I look healthy.
Livonia, MI (PRWEB) July 12, 2011
Recently there have been an alarming number of dietary supplements pulled from store shelves in large part due to health risks that they may cause the user. However, such risks have been eliminated with the development of MiraFit fbcx®, which has been given the designation of Generally Regarded As Safe (GRAS) by the FDA.
Developed by inventors Dr. Catherine Jen and Dr. Joseph Artiss, MiraFit fbcx is a soluble fiber that significantly reduces the absorption of dietary fat. Taken as directed, six tablets each day (two per fat-containing meal) will reduce caloric absorption by about 500 calories per day. This is equivalent to approximately 50–60 percent of the fat and 25-30 percent of calories from the typical Western diet (claims supported by independent studies).
A bride-to-be, Andrea, found the dress, and then she found the supplement. In a mindset similar to many soon-to-be brides, the 23-year-old Andrea set out to lose as much excess weight as possible over the months leading up to her June 2011 wedding, a feat which has netted her a loss of 53 pounds, and reduced her dress size to a 4, from a 14, using the MiraFit fbcx® supplement as an effective aid.
Having been with her now - husband, Ryan, for over 10 years, she wished for the perfect wedding with the perfect dress. The constraints of being a college-age student didn't allow her time to exercise as much as she wanted in order to be able to wear the dress that she had envisioned. "I was taking a weight loss supplement that started giving me nasty side effects when I heard about Mirafit," she said. "I began taking that in May 2010 and saw results in the first week."
Andrea described her diet as the typical American—burgers, steaks, and pizza on Fridays. As MiraFit fbcx® increases satiety, she was able to change her diet to include more salads and reduced portion sizes. She continued to go the gym at the same frequency as before but saw bigger changes after the switch to MiraFit. She is now down to 125 pounds.
When taken with a meal, MiraFit fbcx has been proven effective at safely binding and removing nine grams of dietary fat, or 81 calories, per tablet. Stimulant-free and heart healthy, the naturally occurring supplement can prevent the absorption of 3,500 calories per week, equating to a safe weight loss of one to one-and-a-half pounds per week. Results may be increased with an exercise program.
About ArtJen Complexus USA, LLC
Mirafit fbcx was developed by Dr. Joseph Artiss, associate professor of Pathology at Wayne State University's (WSU) School of Medicine (Detroit) and Dr. K-L Catherine Jen, chair of Nutrition and Food Science in WSU's College of Liberal Arts and Sciences. Artiss and Jen formed ArtJen to commercialize the Mirafit fbcx technology. They acquired the rights to the technology from WSU to bring the product to the worldwide market. To learn more about Mirafit fbcx and its benefits, visit http://www.mirafit.com.
###