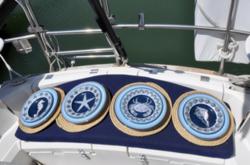 Belvedere, CA (PRWEB) July 11, 2011
Party planners and hosts-with-the-most wanting a beautiful and functional accompaniment to their meals this summer will find it with Dune Road Designs.
Dune Road Designs (http://www.duneroaddesigns.com/) is the brainchild behind friends Alisa Bekins, Denise Burkard, and Elizabeth Canady. In 2009, this women-owned business began with a simple idea: to produce dinnerware that celebrates life by the water. Named after a road in the Hamptons, a famous beach destination in Long Island, New York, the company maintains its nautical theme while branching out into style products for the home.
"Talking over a glass of wine two years ago, we decided to create a company and a product line that fit who we are – women who love travel, food, and entertaining – and in turn, who our customers are," said Bekins, Dune Road Designs' "Skipper." "Whether on deck, by the beach or at your kitchen table, our dinnerware fits your lifestyle."
"Since introducing Dune Road Designs' dinnerware to our customers, we're hearing rave reviews," said Kelly Erickson, owner of Citrus gift boutique, located in Tiburon, Calif. "Not only is it a stand out design at a reasonable price, but on first inspection, most believe it's real china. The quality is impressive."
About the products
All of Dune Road Designs products are designed in-house with a focus on nautical themes, and feature high quality melamine for ease of use, storage and cleaning. Inspiration for the designs come from color, textiles and fashion combined to create a fresh, current look.
Available through nearly 50 online, retail and catalog partners nationwide, Dune Road Designs can be found at such locations as: A.I. Friedman, Gump's San Francisco, A Mano in Washington, DC and Florida, and Cottage & Bungalow. Details about the products are available online at: http://www.duneroaddesigns.com.
Try out your favorite products including dinner plates and appetizer trays to celebrate July, National Picnic Month and, more specifically, International Picnic Day on July 18. Wholesale pricing for qualifying orders is available.
About Dune Road Designs
Dune Road Designs is a homestyle collection inspired by the beach and water. By the Sea, Dune Road Designs' premier collection, was created for everyday entertaining—on a boat, a deck, by the pool or kitchen table. The products are made from heavy duty melamine with the visual quality of hand-painted pottery. The company is headquartered in Belvedere, Calif. For more information call 415-299-2429 or visit http://www.duneroaddesigns.com.
###