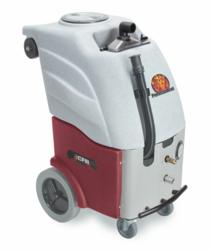 The water and cost savings specifically surpassed our expectation.

Chicago, IL (PRWEB) July 18, 2011
CFR, which manufactures portable carpet extractors that filter and recycle water and cleaning solution, has released new studies regarding the water and chemical use of one of its most popular machines, the Cascade 20.
The system filters and recycles water/cleaning solution up to seven times as the machine is used.
The technology is considered a key advance in low-moisture carpet cleaning. Because of this and due to today's increased concerns about sustainability, water conservation, chemical use, and cost savings, it is receiving considerable attention.
The Cascade 20 was evaluated against comparable portable carpet cleaning extractors. The first comparison regarded how often the machine had to be emptied and refilled versus its competitors.
This is an important issue for both carpet cleaning technicians and the buyers of their services. Stopping to empty and refill the machine takes time, slows down the carpet cleaning process, and adds to costs.
Based on cleaning 15,000 square feet of carpeting, the following was revealed:

A comparable 12-gallon portable extractor needed 20 tank refills to clean the area.
A similar 20-gallon competitor required seven tank refills.
The Cascade 20 required only one tank refill.
Next, labor costs were evaluated based on cleaning 1,000 square feet of carpet at $10 per hour. This revealed:
Using conventional (non-recycling) carpet extractors, labor costs were $17 to clean 1,000 square feet.
With the Cascade 20, labor costs were reduced to $2.38.
The final comparison focused on water consumption. Based on cleaning 15,000 square feet of carpeting, these were the findings:
A standard 20-gallon carpet extractor used 192 gallons of water.
The Cascade 20 used 20 gallons.*
"We knew we would be able to top our competition," says CFR Product Manager Doug Berjer. "However, the water and cost savings specifically surpassed our expectation."
More examples of other cost savings may be found by clicking here: http://www.cfrcorp.com/resources/calculators.aspx
###