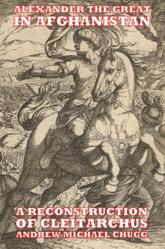 For the first time in over a thousand years we know the exact length of the reign of Alexander the Great - 12 years 8 months and 14 days!
Bristol, UK (PRWEB) July 15, 2011
The new date has just been published in Alexander the Great in Afghanistan: A Reconstruction of Cleitarchus by Andrew Chugg, who is an expert on Alexander the Great. He has appeared in several TV documentaries on Alexander the Great shown around the world on the National Geographic TV channel, most recently in the Alexander the Great episode of Mystery Files (first aired on June 7th 2011 on National Geographic UK). He is also the author of articles on Alexander the Great in peer-reviewed academic journals, including Greece & Rome, The American Journal of Ancient History and the Ancient History Bulletin.
The new book relates the story of how Alexander's campaigns in Afghanistan turned into a blood-soaked slog against unrelenting opponents who adopted the same style of guerrilla resistance as is seen in that region today. Simultaneously, Alexander was beset by internal dissension, which engendered treason and plot within his own camp. How he coped with these dual challenges, through ruthless application of force in combination with conciliatory gestures, still offers useful lessons in strategy. For Alexander was ultimately uniquely successful in that region insofar as he established its rule by Greek kings for the next several centuries.
The clue that the new book reveals to the exact date that Alexander became king comes from the fact that Cleitarchus, the author of an influential history of the king's reign, wrote one book to cover each year and he began each of these books precisely on the anniversary of Alexander coming to the throne. Cleitarchus started his sixth book on the day after Gaugamela, Alexander's greatest battle. That day must have been the fifth anniversary of Alexander becoming king and we can date it precisely, because there was a lunar eclipse just before the battle, which is mentioned in the ancient accounts. So Alexander must have come to the throne on the same day of the year five years earlier.
The new research points to the Autumnal Equinox in 336BC as being the date that Alexander's reign began. You will find it in your diary on 23rd September this year. It is the day on which the sun is above the horizon for exactly 12 hours, so day and night are of equal length. The other key fact that we know about the day that Alexander came to the throne is that it was a religious festival at which his father Philip was assassinated by a knife attack from one of his guards. In Alexander's kingdom the New Year was kicked off by the Autumnal Equinox, so that was a really likely date for a religious festival, which provides strong corroboration for the new date.
###