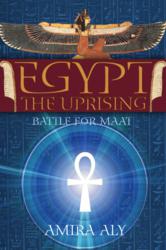 Watching the attacks on protesters, and wishing I could do something, I considered that what I do best is writing, and so I wrote this book.
Cairo, Egypt (PRWEB) July 11, 2011
In the days following January 25, 2011, millions across the globe sat glued to television screens witnessing history unfold with a mix of horror, fascination and admiration, as brave souls in Egypt risked their lives and livelihoods in protest of a corrupt and unjust government. One such observer was Amira Aly, a freelance writer and editor, living in Cairo. The mother of young children, with her heart fixed squarely among the crowds in the epicenter of the revolution in Tahrir Square, Aly prudently decided to stay in the safety of her home with her family. Frustrated by her inability to contribute to the cause for which she felt such passion, Aly decided to pick up her pen, and gave birth to 'Egypt: The Uprising', the first of a multi-volume fiction series entitled 'The Battle for Ma'at'.
"Watching the attacks on protesters, and wishing I could do something, I considered that what I do best is writing, and so I wrote this book," says Aly. "I conceived the series as a tribute to all the fallen heroes and to the freedom fighters who set in motion the Arab Spring," she says, referring to the recent series of uprisings and protests across the Arab world.
With her debut novel, Aly has pushed the boundaries of both imagination and genre, resulting in a unique and enjoyable story. Blending current events and fiction, Aly's protagonist is a teenage girl named Aya who lives with her aunt as the January 25th revolution breaks out. Like the author, Aya desperately wishes to join the protests, but her protective aunt forbids her. Aya resigns herself to the role of "virtual activist", staying connected to her protesting friends and other revolutionaries through social networking websites. In a mysterious mystical event, Aya is contacted by a goddess of Egyptian mythology, Ma'at, and is invited on a metaphysical quest to restore truth, justice, and balance to the world—the qualities for which the goddess is known. Aya learns that there is more to the Egyptian Revolution than she ever imagined, and discovers she has joined a noble battle which began before recorded time itself.
'Egypt: The Uprising' offers a fresh outlook on the interplay between mythology and modern world that is at once inspirational and unconventional. Combining a dash of fantasy, a tinge of science fiction, generously mixed with ancient Egyptian mythology, modern-day interest and quirky and compelling characters, it is not just a story. It is a "world within a world", and a fresh tantalizing outlook on the events in our modern world.
"With all the turmoil and darkness in the world, we need something to keep us going--to keep the hopes flickering in our hearts and keep that ray of sunshine in our lives. Nothing does that better that what Joseph Campbell referred to as the hero's journey," shares Aly. "I hope readers will share in the journey of Aya and her companions, and find inspiration to keep hope alive in the midst of current events."
The new series may just have another added effect. As readers of Dan Brown's 'The Da Vinci Code' flocked to Paris to visit the Louvre Museum, and then after reading 'Angels & Demons', rushed to discover the Eternal City, readers of Amira Aly's 'Egypt: The Uprising' may well find themselves pining to visit the inherently fascinating land of Egypt, and witness firsthand the mystique of the Great Sphinx, the Pyramids of Giza, and other historical marvels illuminated by the author. "That is my secret hope," confesses the author, who loves the land she calls "home".
According to a reviewer on Amazon.com, Aly is not only an excellent writer, she's also an outstanding scholar of Egyptology: "Very few people could have pulled this off and created a story with such layering, a story that reads like a credible Hollywood screenplay in the mold of 'Raiders of the Lost Ark' with the scholarly underpinning of a National Geographic documentary."
'Egypt: The Uprising (The Battle for Maat, Book 1)' is published in e-book format by eBookIt.com, and is currently available in both e-book and paperback from online retailers including Amazon.com and BN.com.
Author Amira Aly is available for interviews, as well as for freelance assignments, especially pertaining to Egypt, and women's rights in the region.
About the Author:
Amira Aly is a freelance writer and editor. She writes articles and blogs focusing on political activism and women condition in the Middle East. She studied Medicine in Cairo University and graduated summa cum laude, and holds a Public Health Diploma from the University of North Carolina, Chapel Hill. With a passion for Egyptology, Aly lives and writes in Cairo, Egypt.
###