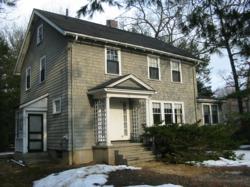 Jones Payne helps make livable communities.
Boston, MA (PRWEB) July 21, 2011
The Jones Payne Group, Inc. announced that the Massachusetts Department of Housing & Community Development (DHCD) has approved the firm as an architectural consultant for its House Doctor Program. The program includes preapproved architects who can provide design services to the Commonwealth's local housing authorities (LHAs). These services include kitchen renovation, bath renovation, door replacement, roofing repairs/replacement, and siding repair/replacement. DHCD estimates that the program will provide funding for approximately 1,000 projects of between $25,000 and $250,000 in construction value over the next 5 years. The firm's contract extends for 2 years, beginning on July 1, 2011.
"Becoming part of the House Doctor Program will allow Jones Payne to continue to deliver on the firm's commitment and mission to help make livable communities," said Michael K. Payne, Managing Principal. "We are pleased to be able to work with the Massachusetts Department of Housing & Community Development on this program that will assist so many LHAs."
The Massachusetts DHCD has oversight responsibilities, including funding for capital improvement projects, for state-aided public housing at approximately 250 local housing authorities across the Commonwealth. The portfolio includes approximately 50,000 units of housing in 7,500 buildings ranging from single-family houses to high-rise apartment buildings. Housing is provided for families, elders, and individuals with special needs.
Since 1980, the DHCD has provided intense involvement and oversight of capital improvement projects for the state's LHAs. DHCD is transitioning to a new mode of funding capital improvement projects that includes a stipulated sum of monies allocated to all LHAs over a set period of time as well as the development of capital improvement plans for every LHA. It is anticipated that this new approach will provide more autonomy in budgeting, planning, and implementing projects at the local level.
About The Jones Payne Group, Inc.
The Jones Payne Group is a nationally recognized leader in the planning and implementation of community-focused programs and provides architecture, urban planning and design, program management, and information management services and products to the public and private sector. The firm has been involved in a variety of transportation-related planning, design, and technology implementation projects including design and construction for airport noise mitigation and capital improvement programs. Headquartered in Boston with offices across the U.S., The Jones Payne Group offers planning, community outreach and liaison services, capital needs assessments, existing conditions surveys, community development, and information technology management services.
In addition, the firm's IMS/GIS group has developed a web-based software product, WeaverPRM™, that provides property management capabilities to community land trusts, real estate developers, housing authorities, and airport noise mitigation programs. For more information, visit http://www.JonesPayne.com or call Sarah Degutis at 617-790-3747, ext 2243.
# # #