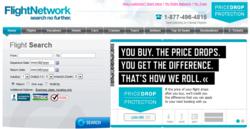 Our customers clearly told us their number one airfare booking worry is price fluctuations after they make a purchase," said Naman Budhdeo, CEO of FlightNetwork.com. "Price Drop Protection is our response.
Toronto, Ontario (PRWEB) July 11, 2011
FlightNetwork.com, one of Canada's leaders in online travel, today announced the launch of their Price Drop Protection plan in direct response to customer feedback, research and polls indicating that the number one concern of Canadians when booking an airfare is price fluctuation after they book. The Company researched 521,000 international, USA and domestic flights and found that 34% dropped at some point before the date of departure.
The Price Drop Protection (PDP) plan is a unique, free program, exclusive to FlightNetwork.com customers on all economy flights. Price Drop Protection allows consumers to track flight price drops after they buy and, when a price drop occurs, lock in the savings.
A recent FlightNetwork.com online poll of 793 Canadian consumers showed that respondents are educated, aware and concerned about airfare price drops and gains:

96.8% of respondents do not believe that everyone pays the same price on the same flight.
87.4% believe that prices fluctuate after they've made a purchase and 70.5% indicated that they've checked to see if the cost of their flight went down after a ticket purchase.
The poll also showed that Canadian consumers are early shoppers; 55.7% indicated that they purchase their tickets well before the travel date. Specifically, 45.4% indicated that they purchase airfare tickets 3-6 weeks in advance and 39.0% responded that they purchase tickets months in advance.
"We believe that flight booking should be easy and worry free," said Naman Budhdeo, CEO of FlightNetwork.com. "Our customers clearly told us their number one airfare booking worry is price fluctuations after they make a purchase, and the Price Drop Protection plan is our response. Now our customers can book any economy flight on FlightNetwork.com with confidence that they have either secured the lowest price, or have the opportunity to lock in the best price deal and be credited for the difference."
FlightNetwork.com actively researched 521,000 international, domestic and USA flights booked through their site between March 2010 and June 2011 to determine the frequency of price fluctuations. 37% of international flights in the study dropped before their date of departure compared to 29% of USA flights and 31% of domestic flights.
"While the travel industry has offered occasional, complicated, and limited time discounts on travel; our free Price Drop Protection program is all about offering our customers a permanent, simple and automated solution to know that they are getting the best prices when they book flights on FlightNetwork.com," added Budhdeo.
About FlightNetwork.com (http://www.flightnetwork.com)
As one of Canada's leaders in online travel, FlightNetwork.com delivers the lowest airfares from the top airlines by offering consumers access to over 2 million bulk rates negotiated with major airlines. Its proprietary flight booking engine offers last second booking and the exclusive ability to 'mix and match' fares – the only Canadian online travel agency that allows booking on different airlines for departure and return flights to get the lowest fares possible. Backing up Flight Network's award winning online service are over 120 insightful travel specialists in the FlightNetwork.com call centre.
A trusted travel partner, FlightNetwork.com powers flight and travel search results to MSN.ca's large and diverse online audience.
FlightNetwork.com CEO Naman Budhdeo was recently named to the 2010 top 40 under 40 awards, presented by The Globe and Mail and The Caldwell Partners. The awards recognize the leadership, vision and achievement of Canada's young leaders.
FlightNetwork.com was recently named to the 23rd annual PROFIT 200 ranking of Canada's Fastest Growing Companies by PROFIT Magazine.
Contact:
Patrick McCaully
Pointman Public Relations
416-855-9427
patrick(at)pointmanpr(dot)com
http://www.pointmanpr.com
###