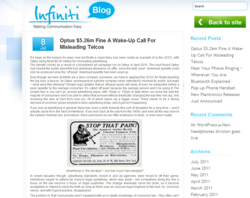 This blog gives business owners that critical information, often before it's covered by more traditional media
Melbourne, VIC (PRWEB) July 12, 2011
National telecommunications provider, Infiniti Telecommunications, has just launched its brand new industry blog site, Infiniti Blog. Created specifically for the small business sector, it gives readers the inside scoop on the latest news and developments from this volatile and often controversial sector.
This highly targeted blog has been developed by Infiniti Telecommunications, a market leader in the provision of telecommunications products and services to SME and enterprise level business. The blog is focussed on creating highly topical articles around news, releases and innovations in the B2B telco sector.
Pete Williams, Sales & Marketing Director of Infiniti Telecommunications, said that the idea behind the blog was a simple one. "Having provided telecommunications services to businesses around Australia for over a decade, we've realised that changes in the telco industry dramatically affect most Australian companies," he explained. "Business owners and managers want to equip themselves with accurate, up-to-date knowledge about the industry, to ensure their businesses are abreast of the latest developments. This blog gives them that critical information, often before it's covered by more traditional media."
Recent topics covered by the blog include news on upcoming releases from headset giant, Plantronics, top iPhone business apps and best new phone systems for 2011. The blog can be found at http://blog.infinititelecommunications.com.au/.
Wholly Australian owned and operated, Infiniti Pty Ltd was launched in 2001 and is a leading telecommunications company servicing metro and regional areas throughout Sydney, Melbourne, Brisbane Adelaide and Perth. Infiniti is the ultimate one stop communication shop for the corporate market, with offerings including new and used phone systems, mobile phones, messages on hold, call plans and carriage, broadband provision, IT services, website development, and much more.
###