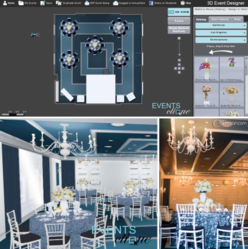 Irvine, CA (PRWEB) July 11, 2011
Events Clique (EventsClique.com), the 3D event designing website that enables users to easily plan, design, and see their events from beginning-to-end announces the many ways their 3D Event Designer can be used.
EventsClique.com's 3D Event Designer is your event space in 360° 3D - whether it's a hotel, banquet hall, restaurant, or your very own home or backyard. Venues, event planners, and clients can take a virtual walk through of the event space, setup with the specified layout, colors, and decor, as if they were there in person. If they aren't satisfied with their event setup, they simply make changes by moving furniture, changing colors, or inserting new décor in real-time.
Below are a few of the many ways EventsClique.com's users are using the 3D Event Designer. To interact with the following event designs of the below mentioned ways, visit http://eventsclique.wordpress.com/2011/06/27/let-us-count-the-ways/:
1. Design in Detail - The venue has their event space(s) modeled in 3D and vendors have their products modeled in 3D. Design and watch as the event comes to life … no surprises on the day of the event!
2. Replicate Your Venue - The venue doesn't have their event space(s) modeled in 3D (… yet …), but the 3D Event Designer can still be used. Simply use the "Create Your Own Event Space" feature to easily insert the room's dimensions. Then start changing floor, ceiling, and wall colors, and dropping in decor!
3. Layout and Setup - Drop furniture in and move it around. See the room from all angles and try various setups.
4. Choosing Colors and Furniture Styles - Not sure whether to use the venue's standard linen colors or rent tables to bring in? What about the type of chairs? See them in multiple event setups before deciding.
5. Centerpiece Heights and Décor - Easily decide whether to have the same centerpieces, or varying centerpieces and heights, on all tables. Then decide on decor – whether to have votives accompanying the centerpieces, all the same chairs or alternating types of chairs, and more.
The 3D Event Designer also offers additional features such as a "Print" feature that converts the 2D floor plan, notes, and quantity/description of all items in the event space into a concise PDF, a "Share on Facebook" feature to generate hype and feedback about an upcoming event, and the ability for venues to put their 3D modeled event spaces on their website for lead capture.
In addition to the 3D Event Designer, EventsClique.com also features custom To Do Lists and Budgeters for many types of events to make event planning a breeze, in addition to featuring a few select top local venues and vendors (currently only Southern California venues and vendors are featured, but venues and vendors nationwide are being sought right now for inclusion on this exclusive website).
About Events Clique
EventsClique.com is a web-based event designing website that enables users to plan, design, and see (in 3D) their event before it happens. EventsClique.com's 3D Event Designer, helps bridge the gap between clients not being able to look at a blank space and imagine what the end result ("the event") will look like. EventsClique.com also connects clients with by-invite-only venues and vendors to help make their 3D event design a reality. Follow EventsClique.com on Twitter @EventsClique and like EventsClique.com on Facebook at http://www.facebook.com/eventsclique.
###