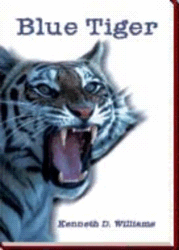 Corsicana, TX (PRWEB) July 12, 2011
War continues long after for the soldiers depart, the treaties are signed, the troops retracted and the bombs cease. For some, it rages nightly in a murky dream world that reoccurs night after night. For Kenneth D. Williams, the Vietnam War raged in his mind for years after his part in it was over. His revelatory book, Blue Tiger (published by AuthorHouse), is an attempt to find closure with the tragic period in his life.
Blue Tiger is a book that is the result of the healing process of one Vietnam combat soldier. Taken from the daily diary he kept during his 14 months in combat, Williams tells his story of the devastating effects of war. The writing of the book was a cathartic process to put the past to rest where it belongs.
The Vietnam War tore the nation apart with protests and civil unrest. The military men were caught in the middle. Many forced into service by the draft, they returned to the states to find they were blamed for things they had no control over. They only fought to stay alive in a "no win" situation, according to Williams.
"For many, the war will never be over. Blue Tiger just might help those searching for an end to their war and explain to others the truth about the combat soldiers in Vietnam and why some are still bitter," Williams states. Other readers may find that this firsthand account of the alternating lethargic and terrifying fits of war may provide insight into their own experience or the experiences of their friends and relatives returning from service in Iraq or myriad other locations worldwide.
About the Author: Kenneth D. Williams was born in Guymon, Okla. He attended Oklahoma University shortly before receiving his degree from Oklahoma Panhandle State University in Goodwell, Okla. He received his master's degree in counseling from Western New Mexico University in Silver City, N.M., with additional graduate work at East Texas State University at Commerce, Texas. Williams received the Combat Infantryman's Badge (CIB), a Purple Heart, all Vietnam campaign medals, the National Defense medal and, 40 years later, he received the Bronze Star under a WWII declaration. He has published numerous poems over the years, beginning while still in high school. Blue Tiger is his first book.
AuthorHouse is the premier book publisher for emerging, self-published authors. For more information, please visit http://www.authorhouse.com.
###