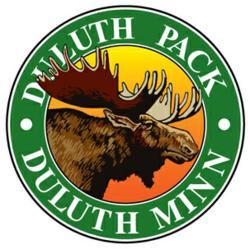 It is an honor to have the opportunity to lead a company that is true red, white, and blue American.
Duluth, MN (PRWEB) July 13, 2011
Duluth Pack is celebrating their 100th year manufacturing at the same factory location in Duluth, Minnesota. As you step inside the factory, you feel the American heritage, history, and tradition. With today's modern and fast-paced society, how was Duluth Pack able to achieve this milestone?
It all started with French-Canadian, Camille Poirier, who made his way from Quebec to Duluth, Minnesota in 1870. On December 12, 1882, Mr. Poirier filed for a patent on a new type of packsack, which today is referred to as the Original Duluth Pack. In 1911, Mr. Poirier sold the pack business to the Duluth Tent and Awning Company. They opened shop at 1610 West Superior Street where they continue to thrive, and continue to manufacture the original "Duluth Pack" as well as a greatly expanded product lines.
Since 1911, Duluth Pack started to grow and expand their product lines to meet the ever-changing demands of societal trends and customer needs. One example dates back to the 1920's when the car camping trend began, Duluth Pack designed the first pack that was specifically designed to attach to the side of the Ford Model-T. Another example is from the 1960's when people were utilizing air travel, Duluth Pack added luggage to their production line. Most recently, Duluth Pack redesigned their Backpacks and Messenger Bags and now offers these bags with padding for laptop computers, for the busy professionals in mind.
Duluth Pack President, Tom Sega states: "It is an honor to have the opportunity to lead a company that is true red, white and blue American. When entering our factory each day, I am reminded that I am responsible for caretaking of a true American brand. A responsibility I do not take lightly. Our Production staff also carries the pride of American Made quality. Excellence is what we strive for each day." And excellence, indeed, is what one will find with their Duluth Pack.
This centennial celebration will be on July 15th 2011 from, starting with a ribbon cutting ceremony and the mayor of Duluth, Minnesota proclaiming it "Duluth Pack Day." After the ceremony, people can visit the Duluth Pack factory for a tour, meet the hard-working staff, and grab a bite to eat from the barbeque.
About Duluth Pack
Duluth Pack established in 1882, is still making high quality canoe packs as well as purses, luggage, messenger bags, gun cases and portfolio bags. These products are manufactured in Duluth, Minnesota, using time tested techniques. All Duluth Pack manufactured products offer a Lifetime Guarantee on craftsmanship and hardware.
###