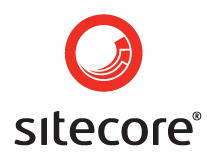 In a real-time environment organisations do not have the luxury of waiting months to research and purchase applications
London, UK (PRWEB UK) 12 July 2011
Sitecore announced today at Microsoft's Worldwide Partner Conference, an online marketplace of on-demand applications, services, and integration solutions developed for Sitecore's Customer Engagement Platform. The Sitecore App Centre adds value to Web Content Management and digital marketing initiatives by delivering pre-integrated applications and services through an easily accessible interface. The ecosystem of pluggable cloud applications will include email marketing, social media monitoring, Windows Azure hosting, Search Engine Optimisation (SEO), translation and Web compliance.
"With the Sitecore App Centre we are changing the perception of how applications are used – by dramatically reducing the time and costs associated with building a customised campaign or programme," said Darren Guarnaccia, senior vice president, product marketing, Sitecore. "In a real-time environment organisations do not have the luxury of waiting months to research and purchase applications. The App Centre offers more control over their programs for deeper customer engagement and increased ROI."
Through the Sitecore App Centre business professionals can enable applications with a push of a button to strengthen campaigns and dramatically reduce development and deployment time for adding applications. For example, within minutes, the email campaign manager application is available from the App Centre portal. The email campaign application makes it possible to map customers in a CRM system to the actual customers opening emails and visiting the website or accessing the web via mobile phones. This gives marketers quantitative, actionable analysis of campaigns by tracking all related website conversions. In addition, Web visits taking place weeks or months after each email campaign can be tracked and associated with campaigns.
According to VML, a full-service digital marketing agency, "We serve a diverse portfolio of clients representing industries ranging from finance and technology to health and beauty, however they are all looking for more flexibility and control when creating digital and traditional marketing campaigns. The Sitecore App Centre allows more self-service campaign building and empowers our customers to sample applications as needed from within their own environment."
The out-of-the-box applications can be easily turned on or off and can be purchased via a subscription for as little as a month at a time or up to a year.
Learn more about Sitecore's Web CMS and Online Marketing Solutions.
About Sitecore
Sitecore redefines how organisations engage with their customers online, powering experiences that can sense and adapt to a customer's needs to increase revenue and customer lifetime value and satisfaction. Sitecore was the first Web Content Management system (WCM) to incorporate marketing automation, intranet portal, e-commerce, Web optimisation, social media and campaign management technologies into a cohesive, integrated open platform. Sitecore's software makes it easy for businesses to identify, serve, engage and convert new customers online.
Sitecore's broad choice of capabilities enable marketing professionals, business stakeholders and information technology teams to rapidly implement, measure and manage a successful website and online business strategy. Its powerful development platform, integrated marketing automation tools and intuitive editing workspace enables successful websites of all types.
Thousands of public and private organisations, including national governments, FTSE 100 and Fortune 500 companies, utilise Sitecore solutions for their websites, intranets and portals. These organisations have created and now manage more than 28,000 dynamic websites with Sitecore including Microsoft, Lloyd's of London, VISA Europe, Cadbury, Universal Music Publishing, Play.com, British Red Cross, Sara Lee, Siemens, Experian, WebTrends, DVLA, Conservative Party, NHS Direct, Birmingham Airport and Manchester United Football club.
Connect in the Sitecore Community to experience Sitecore's success and that of its customers, partners and developers.
# # #