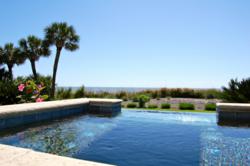 Shows like 'Getting Away Together' are phenomenal exposure. People make memories here - and that's what vacationing together is all about," states Charlie Clark, Vice President of Communications, Hilton Head Island Visitor & Convention Bureau.
Hilton Head Island, SC (PRWEB) July 13, 2011
The mood on Hilton Head Island has changed from cautiously optimistic in the early part of 2011 at the dogged upward climb of the economic numbers in the travel and tourism industry, to outright cheers these past few weeks as the news of two outstanding events were confirmed by officials from South Carolina and Hilton Head's Chamber of Commerce, Convention and Visitor's Bureau.
The first, long-awaited announcement came at a press conference where Governor Nikki Haley confirmed rumors that the Royal Bank of Canada (RBC) had signed a five-year title sponsorship deal with The Heritage Tournament, a PGA event established in 1969. The surprising bonus of that announcement was that The Boeing Company had also signed on as the local presenting sponsor, a move greatly appreciated by tournament officials. Both corporations fit the cultural framework, which defines The Heritage tradition as evidenced by the many historical markers and Scottish highland references thematic throughout the week of play. The news of this sponsorship package came as a welcome relief for the PGA, sports enthusiasts, island residents, visitors, and touring players alike. The Heritage Foundation generates over $1 million for charities each year.
The second event, brewing since early 2010 between the Vacation Rental Managers Association (VRMA), PBS, and Pine Ridge Productions', is a new season of the reality show/documentary, Getting Away Together, about the growing trend of vacation home rentals as an affordable alternative to more traditional family vacation destinations like theme parks, cruises, and hotel resorts. Last week, it was announced that Hilton Head Island, South Carolina would be the next location for filming of the show.
"What better channel than PBS, known for its commitment to family programming, could possibly give Hilton Head Island the well-rounded coverage it deserves?" Asks Charlie Clark, Vice President of Communications, Hilton Head Island Visitor & Convention Bureau.
Adding to the excitement, is the casting call sent out by Pine Ridge Productions for home video submissions from guests who stay in vacation rentals on Hilton Head Island during the month of July. One showcase oceanfront home will also be chosen from a field of submissions from 10 area vacation rental companies, all of who donated money to PBS to help sponsor the program. Chosen guest candidates will be placed in the showcase home for filming at the end of September.
"This is a wonderful opportunity to draw attention to Hilton Head's gorgeous shoulder season, which typically runs September – mid-November, when the climate is still temperate, the water is warm, and the island is uncrowded," states Beth Henzler, partner, The Vacation Company, a vacation home rental agency on Hilton Head Island.
Hilton Head Island is renowned for endorsing an outdoor-geared lifestyle, long-term conservation efforts, as well as an enduring family-friendly atmosphere. These goals have been maintained by strict town building codes (trees and salt marshes left alone throughout major development), and an agenda of promoting outdoor, family-oriented activities such as tennis, golf, fishing, kayaking, swimming, parasailing, paddle-boarding, endless miles of paved bike trails gliding through lush woods and golf courses, and outdoor live entertainment for children, like Gregg Russell and Shannon Tanner.
The Vacation Company is a rental agency committed to providing top-quality service and accommodations to island visitors, family vacationers, sports enthusiasts, and property owners. With over 20 years experience managing Hilton Head's luxury home and villa rentals, The Vacation Company continues its own tradition of supporting The Heritage Golf Tournament, recognizing its place as the island's seasonal springboard into the summer vacation rental season, and PBS family programming, a critical component in the media age to helping children maintain a sense of strong family culture.
# # #