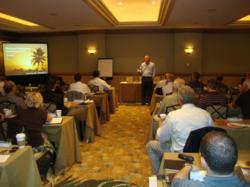 Clearwater, FL (PRWEB) July 11, 2011
Celebrating 40 years of excellence as the nation's largest, privately-owned insurance agency providing annuity, life and health insurance solutions to mature Americans, AmeriLife gathered industry leaders and Medicare Supplement experts for its 2011 Medicare Supplement Symposium on June 23rd and 24th. Hosted on the beautiful Gulf of Mexico shoreline at the Hyatt Regency Clearwater Beach Resort & Spa in Clearwater, Florida, the Medicare Supplement Symposium brought together representatives from 28 companies to discuss the ever-changing Medicare Supplement marketplace and provide an interactive platform for discussion.
"The symposium was a huge success in providing a platform for discussion and educating on all angles of the Medicare Supplement market," explained Dave Rich, chief marketing & product development officer for AmeriLife. "From the speakers to the guests that participated, we had a well-rounded group of people that shared experience from a variety of different positions in the industry."
Attendees at the symposium included company presidents, actuaries, chief financial officers, chief operating officers and other executive-level professionals. Designed specifically for insurance companies and reinsurers, the event featured Medicare Supplement experts and industry professionals as speakers. The agenda included a series of educational presentations and an interactive panel discussion on the industry's government and regulatory environment, how to maximize distribution and new sources of revenue to increase profitability with Medicare Supplement insurance.
"We would like to thank everyone who helped to shape the symposium and make it a worthwhile event for all to attend," said Rich. "We look forward to continuing our dialogue with those that attended the event and working together to grow our presence in the Medicare Supplement insurance marketplace."
About AmeriLife
Founded in 1971 and based in Clearwater, Florida, AmeriLife, LLC is the largest privately-owned, annuity, life and health insurance agency focused on the senior market in the United States. The company develops and markets financial, insurance and Medicare Supplement products through its multi-channel distribution network, which includes over 1,000 captive career agents and over 100,000 independent agents accessed by its marketing organization. Visit http://www.amerilife.com for more information.
For additional information on AmeriLife and our 40 years of excellence or the Medicare Supplement Symposium, please call Kelly Atkinson at 727-726-0726 or email katkinson(at)amerilife(dot)com.
###