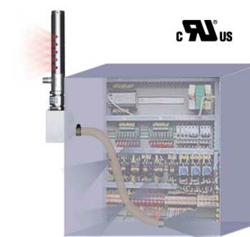 Don't be fooled by "free giveaways" to justify a high price
(PRWEB) July 11, 2011
Using Vortex Tube technology, Frigid –X™ Panel Coolers by Nex Flow™ Air Products provide a simple and inexpensive solution to heat related problems in Industrial Control Enclosures. Using only compressed air, Frigid –X™ Panel Coolers clean, cool, and keep clean electrical and electronic control panels and are virtually maintenance free! No condensate, no Freon, no filters to replace! Installs in minutes to provide years of trouble free service.
Previously available in; NEMA 12 ( IP 52 ) , NEMA 3R ( IP 14 ) , and patent pending NEMA 4/4X ( IP56 ) ratings, the "NEW" MEMA 4/4X-316L is specially made more pharmaceutical grade environments and to address extreme harsh corrosive environments where 303/304 stainless units are not adequate. . All ratings are Underwriters Laboratories Listed ( ULC ) and CE to meet US, Canadian Standards and International Standards.
The new 316L units are almost 50% of the cost of competitive units that only use 316 r 316L stainless steel on "special order". Nex Flow™ units are STOCK.
Don't be fooled by "free giveaways" to justify a high price. Nex-Flow™provides the best value. ALL models are constructed of Stainless Steel, with the widest selection of NEMA ratings in the industry with superior construction ( NO plastic parts ) and superior performance - all in stock.
This summers the time to address that problem enclosure. We invite you to visit our web site at http://www.nexflowair.com or http://www.nex-flow.com for full product details and prices. Sizing help is just a E-mail away at sales(at)nex-flow(dot)com or by calling Toll Free 1-877-797-2777
NEX FLOW™AIR PRODUCTS CORP.
###