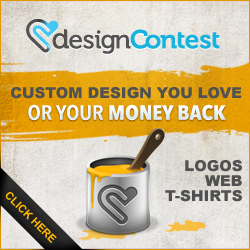 We use our community contests as an opportunity not only for our members to have fun and win a prize, but to educate them.
Marina del Rey, CA (PRWEB) July 11, 2011
For two weeks in early July, talented graphic designers from around the world will compete in DesignContest.com's community t-shirt design contest. The contest, which asks designers to use their sense of humor and creativity in their design, invites any and all members to create a killer t-shirt design for DesignContest.com.
"We use our community contests as an opportunity not only for our members to have fun and win a prize, but to educate them," says Sergey Epifanov, who founded the popular design crowdsourcing website in 2003. Members wishing to enter the t-shirt design contest are directed to DesignContest's daily blog, which features an article educating readers on how to design and prepare files for screen printing.
DesignContest.com uses crowdsourcing to connect designers with clients in need of top quality graphic design. Clients start a design contest detailing their wants and needs, and designers submit custom created entries especially for them. The client chooses the design they love best, and only pays for that one. Business owners, individuals and marketing firms most commonly use DesignContest for logo design, website creation, and t-shirts, but thesite offers 13 different design categories that also include business cards, stationery, wordpress themes, and print design.
In addition to winning prize money, the winning designer will be awarded with 10,000 designer reputation points. Designers earn points each time they enter a contest, with the highest rated designer being listed first on our designers list. In addition to the recognition of being a "Top Designer," those designers with the highest rating are often hired for One-on-One Projects.
One-on-One Projects give clients and designers a unique opportunity to work together, outside the contest setting. "Many times, a client will hold a successful contest on our site, and want to work with their winning designer again," says Epifanov. "We created One-on-One Projects to allow clients to continue working with their perfect designer – you just don't find this on other crowdsourcing sites. It's made both our clients and our designers very happy."
To check out DesignContest.com's Community T-Shirt Design contest, to see the creative talent and design skill of the over 32,000 design team members, or to start a contest, visit http://www.DesignContest.com or call 1-888-906-1888.
###