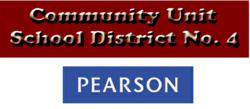 Mendon, IL (PRWEB) July 11, 2011
Acting on its commitment to ensure that the district's 714 K-12 students graduate prepared for the challenges of a global economy, Mendon's Community Unit School District No. 4 (CUSD #4) Superintendent Diane Robertson today announced a three-year partnership with the education and technology company Pearson that will put laptops in the hands of its students providing online learning, progress monitoring, and assessment that will personalize instruction for each child.
The initiative will begin this coming school year as high school freshmen and sophomores trade in their English and Math textbooks for their very own Apple MacBook laptops purchased by the district. Students will then easily access Pearson's online comprehensive mathematics and literature programs — engineered for one-to-one classroom environments — that will guide each student on a personalized learning path with engaging and robust research-based content aligned to the new Common Core State Standards.
"Today marks a paradigm shift for CUSD #4," said Superintendent Robertson. "The incredible advancements in technology have now made it possible for us to offer our students their own personalized learning paths to prepare them for success in school and in life. Pearson has harnessed all of the technology components that will provide us a single source solution, and is offering our district this unprecedented educational opportunity. Now is the right time for us to make this move and ensure that we give every student the best opportunity we can to be prepared for their futures in the 21st century workforce."
The initiative with Pearson will integrate the district's existing PowerSchool student management system with its sister program PowerSchool/Studio Edition to create a connected learning environment that aligns existing student data reporting requirements with the new integrated course management system that provides a single source solution for CUSD #4. With data collected through this system, educators can recommend precise content to remediate or accelerate learning, and students can actively take control of their own learning and view their performance progress and achievement.
"Bringing student assessment, performance visibility, and course management together into a common platform is the foundation of our vision to connect and empower K-12 educators," said Pearson's Senior Vice President Scott Drossos. He added, "Our educational platforms for students are designed for mobile devices like the MacBook, and we are ready today to roll out our Math and Literature programs for CUSD #4 students. So whether these students are at school, at play, at home or elsewhere, they will have access to anytime, anywhere learning. This immediate access is what they are used to in their daily lives with their iPhones and other mobile devices; we need to meet them in their digital world."
Drossos said that Pearson will be on-the-ground side-by-side in the district throughout the project and will provide professional development for teachers and administrators on implementing the curriculum programs and new technology components.
He noted, "As the nation's leading pre K-12 curriculum, testing and technology company, Pearson has a rich history of innovation and we are committed to developing new programs, professional development, and models that accelerate these changes in a positive way. Our partnership with CUSD #4 contains all of these ingredients; and will stand as an example that the best education can be made available to all children."
"This cutting-edge project will truly transform the way our teachers teach and the way our students learn," said Superintendent Robertson. "One of the most promising aspects of this initiative is that it levels the playing field for students who do not have access to technology at home."
Robertson said the second year of the project would extend the program to all high school students in all subject areas, with grades seven and eight receiving their laptops in year three. Fifth and sixth grades would join the project in either year three or later.
Robertson said, "We see this partnership with Pearson as an investment in the community's most precious resource – our children and our children's future."
About Community Unit School District No. 4
Community Unit School District No. 4 is a consolidated PreK-12 rural school district located in West Central Illinois which serves 714 students. The District includes: Mendon Elementary School (Kindergarten-1); Greenfield Elementary School (grades 2-4); Unity Middle School (grades 5-8); and Unity High School (grades 9-12). The District community includes the communities of: Fowler, Lima, Loraine, Marcelline, Mendon, Meyer, and Ursa. Visit http://www.cusd4.com
About Pearson
As the world's leading education company and leader in learning, content, technology, assessment and education services, Pearson is committed to improving the lives of people everywhere. We do this by providing support to build a stronger education system and offer personalized opportunities for students of all ages to learn at their own pace, in their own way. Our success is founded in partnering with education stakeholders to deliver innovative products, technologies and services that respond to challenges to education and help improve student achievement. Pearson is making unprecedented levels of investment in new models for education and supporting key elements of the reform agenda: Common Core standards, digital, mobile and virtual learning, college and career readiness, teacher effectiveness, school improvement and custom solutions for schools and colleges. Visit http://www.pearson.com.
Contact:
CUSD #4 – Diane Robertson, Superintendent, superu4(at)cusd4(dot)com - 217.936.2111 x 107
Pearson – Kate Miller, Vice President, Communications, kate.miller(at)pearson(dot)com - 1.800.745.8489
###