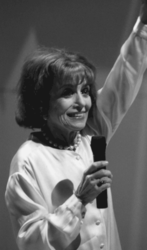 She had a wonderful knack of knowing exactly the things one needed to hear in a given moment. (Elizbeth Bergmann, 1993 Dranoff competition winner with her husband Marcel)
Miami, FL (PRWEB) July 13, 2011
Born in New York in 1922, Loretta is remembered as the cultural and artistic powerhouse that single-handedly started The Dranoff International Two Piano Foundation and Competition, began the renaissance of two piano music and introduced young artists from 30 countries to the world's greatest concert halls.
"She lit up the world with her passion and charm, then she moved mountains with her perseverance," said Dranoff President Gabriele Fiorentino, who first met Loretta in 2001.
More than half a century ago, Loretta and Murray Dranoff set out to build their musical career as a two piano team. There was no showcase for them to help launch their careers. After a talent scout for a top New York concert agency heard them, Loretta and Murray became one of the most sought-after piano teams of their day, playing about 70 concerts a year. From 1946 to 1975, the Dranoffs performed all over the world as Columbia performance artists. In 1947 they were the first piano duo to have their recital televised. In 1973, Murray fell ill, and the couple moved to South Florida. Loretta worked for years in the Miami Dade Public School system where she started the first multiple instrument programs and student recitals for the district superintendent. Murray died 12 years later.
Remembering the struggles of the early years, Loretta created the world's first international competition dedicated exclusively to duo pianism, held in Miami. Even though the world today is awash in piano competitions, there are still very few opportunities for this fascinating repertoire. In fact, The Dranoff is the only international two-piano competition in the world to have membership in the prestigious World Federation of International Competitions in Geneva.
Since 1987, The Dranoff International Two Piano Competition has been judged by world renowned pianists, piano teachers, music critics and journalists, and has introduced 64 brilliantly talented young piano duos to concert audiences in Miami and across the globe.
Besides its main aim of helping duo pianists build their careers, The Dranoff has also stimulated the growth of two-piano music by commissioning major contemporary composers such as Morton Gould, John Corigliano, Ned Rorem, William Bolcom and Sir Richard Rodney Bennett.
Loretta's work has inspired many conservatories to establish graduate programs in two-piano literature and performance, and helped place South Florida on the map of international competitions.
In 2005, Loretta retired from active involvement with the foundation she created. Still, her personal passion and loving touch lingers. Her successful artists remember her from far off lands.
"She had a wonderful knack of knowing exactly the things one needed to hear in a given moment," said Elizabeth Bergmann, who with her husband Marcel was a winner of the Dranoff competition in 1993. "Her enthusiasm was contagious. She somehow always managed to convince people to help her in the pursuit of her passions, twisting arms and making an indisputable case for whatever it was she envisioned."
The Dranoff International Two Piano Foundation lives on in Loretta's shining memory by presenting new artists in contemporary and classical ensembles across the globe, commissioning new music and involving tens of thousands of children in the performing arts scene every year with the Dranoff's education and performance program – PIANO SLAM. According to her daughter, Stephanie Cook, Loretta left this world as she lived it – listening to the recordings of the two piano music of her beloved young Dranoff International Music Competition winners.
For more information, please contact Dranoff at (305) 572-9900, carlene(at)dranoff2piano(dot)org or visit dranoff2piano.org.
# # #