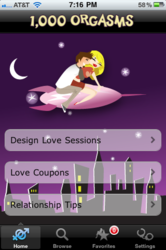 It provides an excellent platform for sexual experimentation and builds much excitement before love making even begins
Asheville, NC (PRWEB) July 12, 2011
Getting rave reviews in the iTunes Store, Games Gone Wild, LLC has released 1000 Orgasms, the best iPhone sex game application for lovers who want to have great sex.
It's most wonderful and unique feature is the excitement building "Design a Session" tool. This juicy guide allows lovers choose sexual acts in advance, create a hot list, and play it back to follow during love making.
From a delicious menu, lovers can select their kissing, foreplay and sex positions to add to their naughty "shopping cart." Next couples set a time (i.e. 1-3 minutes) to complete each position or act. They then push a play button to move through their sexual selections one at a time. A soft tone gently signals them that it is time to change to the next position or act.
Lovers can add mood setters (i.e. massage one another for 20 mins each) and notes to the session. They can also edit each session by adding and deleting selections and using touch control to move the list order around.
Not just a sex game but also a learning tool and guide. Couples who do not wish to design a session can simply browse through more than 100 kissing, foreplay and sexual positions. They can select the acts manually or they can touch shuffle to have the application choose for them. They may also add selections to their Favorites folder.
Other unique features include Love Coupons, which give you the ability to commit to special favors and email them to your lover. For example, a coupon will read "Press the button, push the spinner, your prize… I'LL MAKE YOU DINNER." There is a Relationship Tips feature which provides helpful hints to couples.
Users have the ability to password protect the application for privacy. Unlike many other applications in this category there is a discreet icon on the phone so that others can't tell the application is sex game.
"This is the best iPhone sex game app of its kind. It's rich in content, tastefully made, and its design feature gives each lover an opportunity to choose what they like and commit to doing it. It provides an excellent platform for sexual experimentation and builds much excitement even before love making begins, says Cammy Han of Games Gone Wild, LLC.
Games Gone Wild, LLC is an independent game company that is based in the beautiful mountains of North Carolina. It is their mission to create quality products that improve the lives of others. It is their hope that we can help people to find passion again.
For more information contact:
Cammy Han
Games Gone Wild, LLC
732-217-3292
Email: camille(at)gamesgonewild(dot)com
http://www.gamesgonewild.com
###