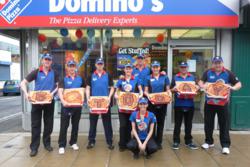 (PRWEB UK) 12 July 2011
Domino's Pizza, the pizza delivery expert, is celebrating five years of business in Hartlepool. The store, located on York Road, has kicked off the celebrations with a host of deals on piping hot pizza to thank pizza lovers for their custom.
Domino's in Hartlepool is owned by 30 year old local franchisee Mike Racz. Mike originally joined Domino's as a pizza maker and then, just two years later, he opened his first franchise in Hartlepool in 2006. Five years on, Mike owns a total of seven stores in the North East.
To celebrate Hartlepool's fifth anniversary, Mike and his team are running a special 555 deal, where pizza lovers can have a party of their own with any classic medium Domino's pizza for £5.55 on collection orders. The deal is running daily until July 17, 2011.
Mike Racz, franchisee of Domino's in Hartlepool, said: "I'm delighted to celebrate the fifth anniversary of my Hartlepool store. It will always have a special place in my heart as it was the very first store I opened – I still remember working day and night to get my new business up and running. There have been a few changes since I opened the store – such as now being able to place your order via our Domino's iPhone app – but five years on, our passion for serving customers in Hartlepool with the highest quality, piping hot pizza still remains exactly the same."
For more details on the fifth anniversary celebrations and the 555 deal, visit the Domino's Hartlepool Facebook page – http://www.facebook.com/dominoshartlepool, pop into the store at 178 York Road, Hartlepool TS26 9EA or call them on 01429 279 999.
Notes to Editors
Mike Racz is an award-winning franchisee, having been presented with a prestigious Acorn award last year for young people in the hospitality industry. For more details on Mike or to speak to him regarding the fifth anniversary, please contact Domino's PR team. See details below.
Domino's Pizza UK & IRL plc is the leading player in the fast-growing pizza delivery market and holds the exclusive master franchise to own, operate and franchise Domino's Pizza stores in the UK and the Republic of Ireland. The first UK store opened in Luton in 1985 and the first Irish store opened in 1991.
As at 27 March 2011, there were 672 stores in the UK and the Republic of Ireland. Of these, 530 stores are in England, 47 are in Scotland, 27 are in Wales, 18 are in Northern Ireland, one is on the Isle of Man, 48 are in the Republic of Ireland and one is a mobile unit.
Founded in 1960, Domino's Pizza is one of the world's leading pizza delivery brands. Through its primarily franchised system, Domino's Pizza operates a global network of more than 9,350 Domino's Pizza stores in over 65 countries. Domino's Pizza has a singular focus – the home delivery of pizza, freshly made to order with high quality ingredients.
Customers in the UK can order online at http://www.dominos.co.uk and customers in the Republic of Ireland can order online at http://www.dominos.ie. In addition, iPhone customers can order by downloading the free Domino's app.
For more information, please contact:
The Domino's Pizza Press Office
Domino's Pizza Group Ltd
Tel: 01908 580654
E: pr(at)dominos.co(dot)uk
Ref: DPGL/CM/460
###