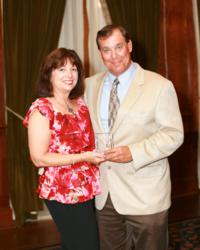 It's wonderful to be acknowledged as the Top Small Business of the South, and this award is a credit to our efforts to provide the entire Southern region with valuable tools to help people live healthier lifestyles.
--Dr. Keith Kantor
(PRWEB) July 11, 2011
Service Foods, a leading provider of all-natural, high-quality food for home delivery, is proud to announce that it has been named the Top Small Business of the South by Business Leader Magazine.
The Top Small Businesses of the South awards program recognizes firms with 100 or fewer employees that do the majority of their business in nine Southern markets: Triangle, Triad, Charlotte, Atlanta, Nashville, Memphis, Jacksonville, Tampa and Miami. Each company's one-year and five-year revenue growth, business achievements and community involvement were evaluated for the rankings.
Boasting an impressive increase in sales over five years, Atlanta-based Service Foods beat out 300 other companies to earn the top honor. Prior to being named the Top Small Business of the South, Service Foods was named the No. 1 Small Business in the Georgia market during an award ceremony held in June.
The top ten award winners were announced on July 8 during a special Internet radio broadcast on wsradio.com led by Business Leader Magazine Editor Rob Bignell and wsradio.com's Director of Operations/Podcasting Manager Wade Taylor. This year marks the first time Business Leader Media ranked small businesses as a whole over the nine Southern markets and within each market. Previously, the awards were divided by state.
Beyond its substantial revenue growth in recent years, Service Foods has also realized a large increase in its number of employees. The company has built a large team of dietitians, nurses, doctors, dentists and fitness experts who provide health education, proper nutrition and expert fitness training, along with a wide range of all-natural, high-quality food for home delivery.
Under the leadership of CEO Dr. Keith Kantor, Service Foods has also made great strides to improve the healthcare crisis in America by counseling clients in leadinghealthier lifestyles through free health screenings, sponsoring health fairs, and by providing healthy cooking videos, educational articles and fitness demonstrations on the company's user-friendly website. The company also supports major health awareness campaigns like the College Park Healthy City initiative, the Get Body Beautiful contest and the American Diabetes Association's Tour de Cure cycling event and Step Out Walk to Stop Diabetes.
"I am very proud of the team at Service Foods for their hard work and dedication in achieving this distinction," said Dr. Kantor. "It's wonderful to be acknowledged as the Top Small Business of the South, and this award is a credit to our efforts to provide the entire Southern region with valuable tools to help people live healthier lifestyles. I look forward to maintaining our growth and high standards of quality products, valuable health education and community involvement."
In addition to the Top Small Business of the South award, Service Foods also recently earned second place in the Ernst & Young Entrepreneur Of The Year awards for the Alabama, Georgia and Tennessee region and was named the No. 1 Large Private Company during the Georgia Fast 40 awards. The Ernst & Young award program recognizes entrepreneurs who demonstrate extraordinary success in the areas of innovation, financial performance and personal commitment to their businesses and communities. Past winners include what are now some of the most recognizable names in business today, such as Starbucks Corporation,The Home Depot and Oracle. The Georgia Fast 40 program honors companies with headquarters in Georgia that have had the greatest growth in revenue and employees over the last three years.
About Business Leader
For the past 20 years, Business Leader has provided local business intelligence to readers in several Southeastern markets. Its products include magazines, websites, email newsletters, and a number of networking and awards events for businesses, ranging from the top small businesses of the South to women leaders of excellence, from catalyst entrepreneurs to business leaders of the year. Business Leader operates in Raleigh-Durham, Greensboro and Charlotte in North Carolina; Miami, Tampa and Jacksonville in Florida; Nashville and Memphis in Tennessee; and Atlanta. For more information, visit businessleadermedia.com.
About Service Foods
Service Foods offers a full line of all-natural foods free from growth hormones, preservatives, steroids, antibiotics and colorings. The company provides free delivery directly to customers' homes. In addition, dietitians, nurses, doctors, dentists and fitness experts are on staff to counsel clients in leading a healthier lifestyle. Service Foods has been in business since 1981 and is based in Atlanta, Georgia, with warehouses in several states.To learn more about Service Foods, Inc., visit ServiceFoods.com.
###