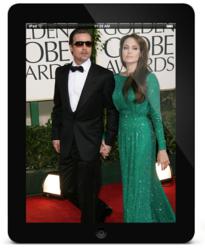 The lowest prices on celebrity photos for your apps and digital magazines!
Palm Beach Gardens, FL (PRWEB) July 28, 2011
With PR Photos' new low cost package deals, developers of any size can use fully-licensed celebrity photos to create rich, full-featured mobile apps and digital magazines. Customers now have access to more than 1.5 million images for as little as $2 per photo.
High-quality celebrity photos can help individual apps stand apart from the more than 600,000 available for mobile devices, but licensing them is often expensive. With PR Photos, however, even the smallest developers can afford to add pictures. Customers can choose from concert and sporting event photos, candid celebrity shots and red carpet images – the company's extensive library will have the perfect photo for any mobile app, Facebook app or digital magazine. The site is easy to navigate as well, with images broken down into simple categories such as sports, news, politics and entertainment. This is the lowest cost, most user-friendly solution for celebrity photos anywhere!
Please visit PR Photos' apps packages page for more information and pricing details.
About PR Photos
PR Photos is a leading independent photographic press agency. The company supplies high-quality photography to the world's professional media companies on a daily basis. PR Photos has extensive experience covering major entertainment, sports, news, fashion, corporate and feature events. A great mixture of top industry photographers and dedicated sales people makes PR Photos a leader in the celebrity stock photo industry. PR Photos has been on the red carpet for 14 years, and has more than 1.5 million images available, hundreds of photographers and a state of the art digital delivery system to bring all of the latest events to its customers.
Website: prphotos.com
Twitter: @PRPhotos
###