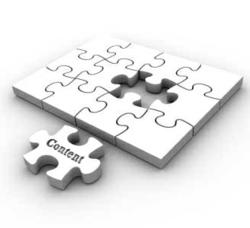 (PRWEB) July 18, 2011
After the recent changes Google made to their indexing algorithms that determine the relevancy and ranking of websites, unique, compelling website content has become more important than ever. Content is, once again, king. While keywords will of course always be a major factor in Search Engine Optimization (SEO), the addition of original website content to site pages has gained major significance as well. Major search engines such as Google, Yahoo! and Bing recognize fresh content and its relevance to the page and a business, and the website is rewarded accordingly.
It is not as simple as just adding content to a website. The content that Active Web Group develops is relevant, robust, and unique and adds value to a website. To be more specific, content that is relevant to the user has the potential to be shared through linking, but mainly because people that see it are finding value in it. It is this value that will help to promote rankings.
Sites with "thin" content have been floundering for rankings in the past months due to the "Panda" update to Google's algorithm. With similar updates on other search engines potentially in the works it is important that this problem is dealt with. Active Web Group has researched and addressed this issue through website content development and the results have been outstanding. Their website content development procedures keep the focus on the end user and what will be relevant to them.
For professional, informative website content development that will create content that is valuable to visitors and also contains relevant keywords for search engines, businesses of all types trust in the online marketing team at Active Web Group.
Active Web Group is a full-service web marketing firm with offices located across the nation, helping companies across the globe achieve Internet marketing success and prosperity. Equipped with unsurpassed knowledge and expertise in the web marketing industry, the online marketing specialists at AWG offer their services in website content development to create fresh, unique content that gets noticed by major search engines. Subsequently, a site's search engine rankings and Internet visibility rise, leading to increased web traffic and higher sales conversions.
Active Web Group's website content services create fresh, unique content specifically tailored to a specific site, business, and corporate goals. This service enables Internet marketing managers and businesses to capitalize on new Internet marketing trends and take advantage of important long tail keyword search phrases. Focusing on key areas of a site, AWG will analyze and revise content and deliver fresh, new content on a continual basis. It is this consistency of fresh and relevant content that delivers results and the results speak for themselves: website traffic, new sales leads, an increased social media presence, and more.
Internet marketing managers and other interested parties can contact the professional online marketing specialists at Active Web Group today for more information, or visit the AWG corporate website to learn more about this exciting new service that gets results!
###