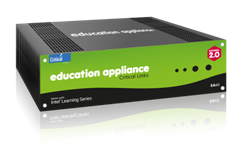 We welcome Critical Links to our OEM community and look forward to engaging with them to deliver Windows-based solutions to the education market worldwide
Fairfield, New Jersey (PRWEB) July 12, 2011
Critical Links, a pioneer in delivering Information & Communications Technology (ICT) infrastructure solutions for School 2.0 - the next-generation of schools, announced today that it has entered into a Direct OEM agreement with Microsoft. This agreement bolsters Critical Links' leading position in the fast growing education server solutions market.
As a Microsoft Gold Partner, Critical Links has been delivering education products that are inter-operable with Microsoft platforms and operating systems. The newly formed OEM agreement will lead to closer collaboration with Microsoft, leading to greater product and platform-level integration, and will provide schools with easier access to Microsoft education Apps as well as Apps from Microsoft Partners.
Critical Links provides a plug-and-play School 2.0 solution that integrates all the technologies required to run a 21st century school. The Education Appliance™ on school premises pairs with Cloud services to provide all vital Learning, Networking, and Administration capabilities that a school needs in a simple, intuitive, and integrated manner. The solution set of core services is expanded seamlessly with third-party Apps and Content connected via an API.
The Critical Links Education Appliance is unrivaled in the breadth of functionality it provides to K-12 Schools and it is enabled by the Intel® Learning Series alliance and the School 2.0 Alliance. The Critical Links education appliance has been deployed at over 1200 schools in the world's largest school modernization program and this platform has been recognized with numerous industry awards.
"It is a great honor to be part of the Microsoft OEM family. The direct OEM agreement extends our relationship with Microsoft and takes it to the next level of integrating our platforms with Microsoft systems and solutions. We are excited to work with Microsoft and Microsoft partners to better serve our Education customers worldwide and provide them access to a wealth of Education Apps from the Microsoft ecosystem", commented Joao Carreira, CEO at Critical Links.
"We welcome Critical Links to our OEM community and look forward to engaging with them to deliver Windows-based solutions to the education market worldwide," said Ann-Marie Rockwell, GM of OEM Named Accounts at Microsoft. "At Microsoft we believe that providing quality education to the 1.4 billion students around the world is essential to the future of our society. Technology can expand the power of education and unlock the potential of students, educators and schools, delivering solutions, services and programs that help people learn."
For more information on how you can leverage Microsoft solutions for the Education Appliance, please contact education@critical-links.com .
About Critical Links:
Critical Links helps small and medium K-12 schools move to School 2.0 faster, without the complexity and the costs. Critical Links is a pioneer in delivering innovative ICT infrastructure solutions for Schools 2.0—the next generation of Schools. Critical Links' School 2.0 portfolio provides the learning, networking, and administration capabilities necessary for delivering a highly collaborative and interactive educational experience. In addition it also strives to dramatically simplify the administration of both the IT and data infrastructure of schools.
More information on the Critical Links Education Appliance portfolio and the School2.0 AllianceTM can be found at our School 2.0 portal: http://education.critical-links.com/PR or contact us at sales(at)critical-links(dot)com. You can also follow Critical Links on Twitter (schools20).
###