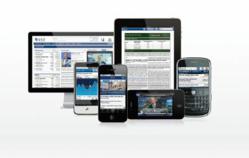 Building a team with in-depth financial services technology experience has been a vital part of CarryQuote's success
Zug, Switzerland / New York, NY (PRWEB) July 12, 2011
CarryQuote AG, a pioneer in real-time mobile financial information solutions, today announced that it is expanding its leadership in the area of product management. Joining their team is Alberto Zamora, who will be serving as CarryQuote's Director of Product Management and will be based in the company's New York office.
Alberto Zamora has over ten years of product management experience in the financial services technology space. Prior to joining CarryQuote, Mr. Zamora was a Senior Product Manager at TheMarkets.com, where he was the lead product manager for its flagship investment research offering. He played a key role in driving the platform's growth, leading to the company's 2010 acquisition by Capital IQ, a division of Standard and Poor's. Previously, Mr. Zamora was a Product Manager at UBS, where he managed various product lines essential to the UBS Wealth Management business. Mr. Zamora holds a Bachelor of Science in Information Management and Technology from Syracuse University.
"Building a team with in-depth financial services technology experience has been a vital part of CarryQuote's success," said Christian Erlandson, CarryQuote's CEO. "Alberto's deep industry experience and strong track record with top-tier firms will contribute significantly to our current business needs and future business goals. Further, his client-focused approach to product development is a perfect match to our business model, and we are thrilled to have Alberto join CarryQuote as we continue the aggressive expansion of our global team."
About CarryQuote
CarryQuote® is reinventing the way financial institutions and individual investors access, consume, and deliver financial information. Tailored for today's always-on mobile culture, CarryQuote's award-winning mobile applications are the first-ever to cost-effectively deliver real-time global financial information and proprietary research to any smartphone, pad, or computer. The Company's private-label solutions offer users integrated mobile and web access to every major exchange in real-time, covering all asset classes and over 95 percent of the world's markets. In addition, CarryQuote solutions provide CNBC news, on-demand video, and live TV, as well as analytics and charting. CarryQuote uses a unique mobile SaaS-based technology that is compatible with all five major mobile platforms—iOS, Android, BlackBerry, Symbian, and Windows Phone—ensuring access to critical financial information, whenever and wherever it is needed. For more information, please visit http://www.carryquote.com.
###