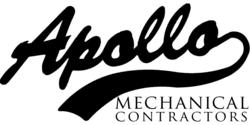 In 2011, Apollo Mechanical received an Experience Modification Rate (EMR) of 0.29, making them the safest company in Washington State, beating out the second closest company by an astounding 30%
Kennewick, WA (PRWEB) July 13, 2011
This week Apollo Mechanical Contractors will complete the acquisition of the assets associated with Kinetics' Northwest operations. Previously competitors in the high tech/semi‐conductor industry in the region, the Northwest operations of Kinetics, will be fully absorbed by Apollo. This acquisition will increase Apollo's capabilities in high purity piping and fabrication/installation and specialty equipment throughout the Pacific Northwest. Kinetics will finish work on all current Kinetics contracts and work to facilitate the transition to Apollo in the Northwest as the current work is completed. This acquisition establishes a stronger, more unified piping and sheet metal fabrication presence in Portland, Oregon. Bob Hightower, Vice‐President for Apollo Mechanical Contractors reports, "This move will establish Apollo as a premier, full mechanical contracting company, allowing us to better serve the industrial clients in the Northwest Oregon/Southwest Washington marketplace."
The acquisition by Apollo, which is celebrating its 30th year in business, of Kinetics Northwest operations, unites two companies with stellar reputations in the mechanical construction industry. Following completion of the transition, Kinetics will focus on its California, Southwest, Southeast, Mid‐Atlantic, Northeast and International operations. Additionally, the parties intend to explore potential opportunities to work together on projects where the individual skill sets of each entity complement one another.
In 2011, Apollo Construction received an Experience Modification Rate (EMR) of 0.29, making them the safest company in Washington State, beating out the second closest company by an astounding 30%. To celebrate both its 30th anniversary and its stellar safety record, Apollo has launched an impressive philanthropy campaign that includes one act of charity for every year the company has been in business.
About Apollo Mechanical Contractors
Apollo officially began operations in 1981, building on a vision that originated in the mid‐1970s by owner Bruce Ratchford. With a decade of experience and expertise in mechanical design and business management, Mr. Ratchford incorporated Apollo in Richland Washington, to serve the Tri‐Cities' construction needs.
Since 1981, Apollo has grown progressively larger than its original scope and has expanded its operations to specialize in mechanical construction, facilities management and energy conservation projects for correctional facilities, hospitals, laboratories, schools, and industrial facilities. Apollo employs over 550 people with offices in The Tri‐Cities, Seattle, Portland and Spokane and performs work worldwide.
###