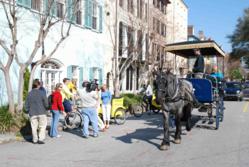 We want people to write home about their visit to Charleston.
Charleston, SC (PRWEB) July 13, 2011
Charleston Vacation Guide, a publication of Media Services, along with participating sponsors, is proud to announce Postcards From Charleston. An informative, half hour show on hotspot tourism locations in the City of Charleston, Mt. Pleasant, Isle of Palms, and Folly Beach will air worldwide on The Travel Channel, in over 95 million homes on Thursday, July 21 at 7:30 a.m.
Media Services is a growing multi-media company with corporate offices in Mt. Pleasant, SC, since 1982, and is publisher of Charleston Vacation Guide and newly released Savannah Vacation Guide. Along with hard copy magazines, Media Services publishes tourism websites including http://www.CharlestonVacationGuide.com, http://www.CruisesLeavingCharleston.com, and http://www.SavannahVacationGuide.com to name a few.
Postcards from Charleston was sponsored by many area businesses and has previously aired on local cable television.
# # #