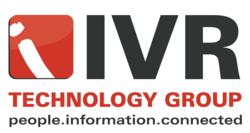 ITG met all our needs in a professional manner consistent with the kind of customer service that our Association represents
Buffalo, NY (PRWEB) July 13, 2011
IVR Technology Group (ITG), a leading provider of intelligent voice response services and solutions, announced today that The International Customer Service Association (ICSA) (http://www.ICSAtoday.org) has engaged the IVR Technology Group (http://www.ivrtechnology.com) to partner in promoting the ICSA's Annual Conference which will be held at the Omni La Mansion del Rio in San Antonio Texas September 18th through the 21st of 2011.
"ITG has been a tremendous supporter of the ICSA and we are thrilled to be partnering with them again as we promote what is the signature event for Customer Service Professionals," said Bill Gessert, President of the ICSA. He added, "We worked successfully with ITG last year to promote the event and to provide attendees with a simple means of completing a post conference evaluation. ITG met all our needs in a professional manner consistent with the kind of customer service that our Association represents."
"We look to support our professional community whenever we can," stated Mike Byrne of IVR Technology Group. "The ICSA has been a leader in supporting customer service professionals and ITG is a leader in providing hosted IVR and SMS services to these same companies - it is a great fit. We are pleased to be a part of their ongoing programming," continued Byrne.
IVR Technology Group supplies custom survey tools, testimonial lines as well as orchestrated an outreach program to keep customer service professionals informed of ICSA activities. These programs coupled with ITG's robust telephone and SMS delivery platforms have provided ICSA with unparalleled support of their members.
About The International Customer Service Association
The International Customer Service Association is the largest non-profit professional association dedicated to the customer service profession. For more information contact Lisa at 347.273.1303 or Lisa(at)icsatoday(dot)org. The ICSA is located at 1110 South Avenue Suite 50, Staten Island, NY 10314.
About IVR Technology Group
IVR Technology Group provides businesses a suite of Interactive Voice Repsonse and SMS phone automation services to enhance customer conversations, drive sales and lower costs. Leveraging IVR Technology Group's easy-to-use services, business users, marketers and developers can quickly create solutions ranging from simple call routing solutions to advanced interactive voice response, SMS Text, cloud based applications and virtual support systems. For more information, visit http://www.IVRTechGroup.com or contact John Crouthamel at 877-664-2887.
###