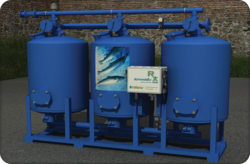 With Retenu we can significantly reduce the amount of particulates and associated pollutants in stormwater runoff.
Portland, OR (PRWEB) July 12, 2011
StormwateRx LLC, a provider of industrial stormwater treatment and filtration systems, today introduced the Retenu™ Stormwater Roughing Filtration System. Retenu is designed for use at industrial sites that produce a high amount of sediment in stormwater runoff, such as heavy industry, recycling facilities and unpaved sites. It is fully automated, chemical-free and can be used as a standalone filter to remove heavy sediment loads or as a pretreatment to enhance the performance of StormwateRx's Aquip® Enhanced Stormwater Filtration System or Purus® Polishing System.
"We developed Retenu in response to customer requests for a backwashing stormwater filtration system designed especially for higher sediment-loading and heavy use industrial sites," said Calvin Noling, president and CEO of StormwateRx, LLC. "With Retenu we can significantly reduce the amount of particulates and associated pollutants in stormwater runoff. This also makes Retenu a perfect pretreatment for Aquip or Purus because it reduces the amount of sediment flowing into these more advanced filtration systems, which in turn increases their performance and reduces maintenance frequency."
Retenu's chemical-free treatment process uses filtered stormwater for back-washing, flushing out accumulated dirt and concentrating the solids. This process reduces the concentration of solids in the effluent, removing metals and other particulate pollutants. Retenu is available in several standard sizes and can be integrated with other StormwateRx treatment best management practices (BMPs).
Key benefits of Retenu include:

Built for use in heavy industrial applications
Simple and fully automated, resulting in less maintenance and ultimately lower power costs
Uses filtered stormwater for backwashing, no external water source required
Concentrates pollutants, reducing the disposal cost in most cases
Compact footprint available with treatment rates from 20 to 500 gpm
Available stand-alone or in a BMP treatment train
Enables more effective performance of downstream treatment systems
In a recent pilot study at a ferrous scrap metal recycling facility in the state of Washington, the StormwateRx Retenu Roughing Filtration System was tested as a stormwater pretreatment to remove solids from the stormwater upstream of an existing Aquip Enhanced Filtration System. Influent and effluent samples from the Retenu were collected over the course of a day. Total suspended solids (TSS) and particle size distribution were measured to evaluate solids removal. Retenu provided an 85% to 99% reduction for particle sizes greater than 20 micron and a reduction was also observed for particles in the 1.5 to 20 micron size range. By removing these solids prior to enhanced stormwater treatment, Retenu is able to extend the maintenance interval of the Aquip system and allow for higher performance across the treatment train.
About StormwateRx
StormwateRx designs and manufactures stormwater treatment systems that help industrial sites across North America remove pollutants from stormwater runoff. Products include the Clara®, a plug flow separator system; Retenu™, a roughing filter; Aquip®, a stormwater filtration system and Purus™, a stormwater polishing system. The company has supplied more than 150 systems for stormwater filtration and stormwater pollution control in the industrial sector, and is expert with retrofit design advice. StormwateRx has also developed a series of Industry Remedies that include best practices and ideal product configurations to address the unique environmental concerns of different industries. For more information on how StormwateRx can help industrial sites comply with even the toughest environmental stormwater regulations, please visit http://www.stormwaterx.com.
###