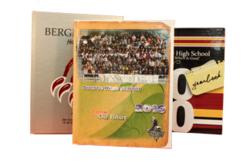 As much as you may love the friendly visits and treats that your yearbook representative supplies to you and your yearbook staff, chances are they are adding as much as 20% over list price to the cost of your books to cover these "services".
(PRWEB) July 19, 2011
As the fastest growing yearbook company in the United States, Entourage Yearbooks has heard countless horror stories from customers about their experiences working with other yearbook companies. Entourage Yearbooks has created a new customer service model that was developed to offer better alternatives.
The top five secrets that yearbook companies try to keep from their customers and the Entourage Yearbooks alternatives:
Number 1: Yearbooks only take a few weeks to manufacture
Yes it's true! While many schools may wait 10 to 12 plus weeks to receive their yearbooks after having submitted them to your yearbook company, actual book production doesn't take nearly that long. Entourage Yearbooks guarantees a three weeks turnaround time, plus the time it takes to ship the books. How? They are able to keep turnaround time short by using the latest advances in printing and binding technology.
Number 2: Yearbook representatives build their own expenses into the cost of your books
As much as yearbook advisors may love the friendly visits and treats that their yearbook representative supplies to the yearbook staff, chances are that the reps are adding as much as 20% over list price to the cost of the books to cover their own travel expenses, salary, and even the coffee and donuts that they brought last visit. Entourage Yearbooks is dedicated to keeping yearbook costs down so that more families can afford yearbooks, and schools can afford to keep yearbook traditions alive. How? They don't send reps out to the schools. Entourage utilizes new technologies like online conferencing to still offer exceptional customer service while offering low yearbook prices for their customers.
Number 3: Modern digital printing looks almost identical to offset printing
When digital presses first became available there was a noticeable difference in the quality of prints compared to offset presses. Some yearbook companies want their customers to believe that this is still the case as they only have slow, expensive, offset presses available to print the yearbooks with. Entourage Yearbooks uses the latest in digital printing to create stunning looking yearbooks at much better prices, and much faster turnaround times. How? They have done their homework and have invested in digital presses that create almost identical looking prints to an offset press. Further, the books can be smythe sewn just like signatures from an offset!
Number 4: The book quality from your yearbook company is not superior
Many yearbook advisors shy away from lower cost yearbooks assuming that they are going to receive inferior quality yearbooks. This is exactly what many yearbook companies want their customers to believe; that they have to pay more to get a high quality yearbook. This again is simply not true. Entourage Yearbooks actually offers a lifetime guarantee on their soft and hard cover book binding. They also offer all of the upgrades, cover options, and premium quality paper choices, that other yearbook companies do all for lower prices. How? They use the best quality in book production materials and save you money in other areas.
Number 5: There are hidden fees built into other companies' "full service" yearbook model
Ever received your final invoice from your yearbook company to be shocked at the unexpected total? Many yearbook companies charge extra for each visit, tech support call, proof book and more. This can be disastrous for a school on a budget! Entourage Yearbooks strives to help their customers create yearbooks without going over budget. How? There are no hidden fees. Almost all of the services that Entourage offers are included in the price of the books already, and any extras are clearly advertised so Entourage customers are never surprised when it comes time to pay the final bill.
To learn more about Entourage Yearbooks and their dedication to improving the yearbook customer experience, please visit http://www.entourageyearbooks.com
###