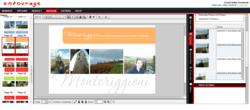 Our goal was not to re-invent online yearbook software, but instead to create an online yearbook software as our customers would have designed it themselves
(PRWEB) July 28, 2011
In the evolution of yearbooks, yearbook software has made huge leaps and bounds over the past decade. Some yearbook advisors can still remember the yearbook process when it required hand held cropping tools and wax pencils. Others started their first book in the early years of PageMaker and InDesign. Newer advisors have been introduced to specialized yearbook software crafted for simplifying the yearbook process. Now, almost all yearbookers agree that the future of yearbooking lies with online software. But according to a recent survey of Yearbook Advisors and Staff members, online software still has a long way to go.
When asked what features were most important, advisors admitted to not only being picky about functionality and ease of use, but that they also crave lots of specialized yearbook planning tools. Entourage Yearbooks has addressed these wants with their new online software program EDOnline.
"This software was created after talking to thousands of schools and yearbook advisors. We have identified where other online software fails to meet customer needs, and we have created specialized yearbook tools that are simply going to blow advisors away" says Missy Winka who works on the software and website development team at Entourage Yearbooks.
The EDOnline Software itself offers users almost as much creative freedom and functionality online as if they were using a full version of InDesign or other professional design software. Paired with the new yearbook planning tools and other extras offered on the Entourage Yearbooks website, the overall experience is pushing the limits of the traditional yearbook process.
When pressed for more information about the software launch, Winka revealed, "As an example, we have developed tools that can intelligently design a yearbook ladder for our customers! According to our beta testers, this is not only a huge time saver, but immensely helpful for getting past that 'Where do I begin?' part of the yearbook process."
Other exciting features to look out for include: advanced budget planning and tracking tools, innovative marketing tools, easy-to-use picture tracking, interactive online training and much more. And with the already outstanding library of Entourage templates, fonts, backgrounds and covers loaded into the software, EDOnline promises to be a standout performer among available online software.
"Our goal was not to re-invent online yearbook software, but instead to create an online yearbook software as our customers would have designed it themselves," says Entourage Yearbooks President Elias Jo. "According to our customers it's been a success... this software is a yearbook advisor's dream come true!"
For more information visit the Entourage Yearbooks website at http://www.entourageyearbooks.com
###