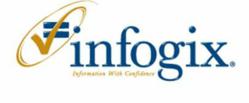 Using our solution, organizations can see how their controls and processes are performing in the context of their business operations.
Naperville, IL (PRWEB) July 11, 2011
Infogix, Inc., a software company specializing in the elimination of information errors with automated controls will host a webinar to announce the release of a new powerful Visibility Platform. This solution introduces enhanced capabilities that provide flexible ways to access large volumes of data in order to quickly make informed business decisions with confidence. Join Infogix to celebrate the release of the Infogix Visibility Platform on Tuesday, July 19th 2011 at 10am CST.
The Infogix Visibility Platform provides a user-friendly platform for creating and working with meaningful paths to data. You can view the definition, status, results, and history of your controls. Notes and attachments document how and when issues are resolved, and case assignment features provide the ability to manage workloads and log audit history.
The Infogix Visibility Platform also provides the ability to centralize data from multiple sources in a single repository. By including a powerful reporting engine, the Visibility Platform allows you to create reports that end-users can access via a web browser. These reports can be exported to a wide range of file formats to specific locations, or scheduled and distributed as needed. Business users can access an ad hoc report wizard to further analyze data at any time. Auditing and compliance efforts can be streamlined by giving auditors direct access to controls environment and reports, letting them perform research without relying on others and thus reducing audit cost and time.
The Infogix Visibility Platform supports how organizations design and share customizable views across the enterprise. "Using our solution, organizations can see how their controls and processes are performing in the context of their business operations," said Emily Washington, product manager for the Visibility Platform. "By leveraging portal technology, they can include widgets and feeds from other websites to enrich the control panel with useful information. Since the underlying Infogix-supported data is accurate, consistent, and reliable, they will have confidence in understanding how their business is performing."
• Be among the first to hear about this exciting new solution.
• Learn how to leverage Infogix for your advanced reporting and analytics needs.
• If you are a current Infogix user, learn about new possibilities to visualize data easily.
• If you are not a current Infogix user, learn about the value controlled data will bring to all areas of the business.
Click Here to Register for the Webinar
About Infogix, Inc.
Many of the world's largest enterprises depend on Infogix Controls to eliminate information errors. Infogix Controls are independent, automated and continuous. They can be deployed enterprise-wide across applications, platforms, and business processes. Infogix offers a powerful portfolio of software products and services to monitor, detect, and prevent information errors. Since 1982, Infogix has been providing Infogix Controls solutions to Global 2000 enterprises. Millions of Infogix Controls continuously monitor and assure the integrity of information in hundreds of enterprises everyday. For more information, call +1.630.649.6800 (U.S, Canada, and International), +44 (0)175.370.1060 (UK and Europe), or visit http://www.infogix.com.
# # #