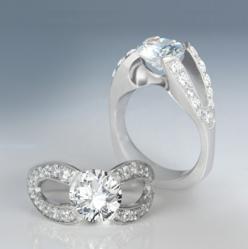 San Anselmo, CA (Vocus/PRWEB) July 13, 2011
The diamond engagement rings that McBride has designed are based on this architectural method. He suspends the diamond in air by supporting it with strong arches, or "flying buttresses," as he calls them. These arches grow organically from the diamond's ring shank that fits around the finger. While the diamond is securely held by the arches, the space below and on all four sides, are open to the air --- and the eye.
Speaking of this most popular Ross Goldsmith ring design, William McBride says, "whether you choose a diamond or a colored gem stone, your diamond will be more visible from every angle in the flying buttress ring than in any other ring design. And yet it is more secure than a standard prong setting, because the diamond is built into the shank itself."
In order to achieve this secure and floating diamond engagement ring design, the Ross Goldsmith builds each ring as a one-of-kind custom design. He carves each ring first in wax and then melts the diamond for that ring into the wax. This also allows each client to see exactly the size, scale and design of the custom ring before it is cast. They review the design in the wax together, make adjustments until it is perfect, and only then does the Ross Goldsmith cast and set the diamond.
the Ross Goldsmith has created many variations of this diamond engagement ring using this "flying buttress" architecture. McBride says, "some versions are for round diamonds, some for radiant cut diamonds, some for oval diamonds; some are more geometric designs some are more flowing designs."
A new generation of this signature Ross Goldsmith diamond engagement ring, is paved with tiny diamonds on the top edge of the flying buttress arches. "This combines a clean architectural look with a 'vintage design' feel," says McBride.
McBride, who invented and has copywrited this special diamond engagement ring, says that it only exists at the Ross Goldsmith.
The Ross Goldsmith is located at 224 Sir Francis Drake boulevard in downtown San Anselmo. They are generally open Tuesday through Saturday afternoons, and also by appointment. The phone number is 415-458-1770.
###