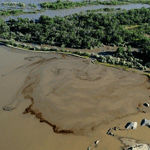 "Ironic or not, because of Exxon Valdez, the Oil Pollution Act probably will be the legal centerpiece for Exxon and the victims along the Yellowstone River." -James Christopher Dean
Houston, TX (PRWEB) July 14, 2011
An ExxonMobil pipeline spilled an undetermined amount of crude oil into the Montana Yellowstone River July 1, 2011. The U.S. Environmental Protection Agency has released a team to the site. ExxonMobil is getting assistance from Clean Harbors, a provider of environmental services, reported CNN.
Regardless what is being done to clean up the Yellowstone River and surrounding Montana area from the pipeline leak, oil spills are damaging to the environment and expensive to clean up. Problems like loss of income, health issues, environmental concerns, and land or property damage are endured currently by the residents of Montana.
For this reason the Dean Law Firm believes the people of Montana deserve the best knowledgeable attorney who is familiar with oil spill sufferers to represent them.
James Christopher Dean encourages victims of the spill to be mindful that the Oil Pollution Act of 1990 likely will dominate the procedures for filing claims and lawsuits. "Congress passed the Oil Pollution Act only after realizing the disastrous consequences of the Exxon Valdez spill in Alaska," Dean says. "Ironic or not, because of Exxon Valdez, the Oil Pollution Act probably will be the legal centerpiece for Exxon and the victims along the Yellowstone River."
The Oil Pollution Act contains strict procedures that victims, called "claimants," must follow. "What likely will shock the victims in Montana is that they must first present a full and final claim for damages to the administrator of the Oil Pollution Act before the courts will accept a claimant's lawsuit," Dean says. "This means that all of the leg work to identify and develop the entire scope of damages claimed must be completed and presented before an Oil Pollution Act lawsuit can be filed in court." That is what can be tricky for claimants.
Dean adds, "Identifying the extent of damage to property, water quality, and related economic impacts requires hiring expensive experts in multiple specialties. The costs of understanding the entire loss for a victim can be extraordinarily time consuming and expensive." Montana Residents who have suffered damage to their property or land, financial suffering, or health concerns to them or their family members, may receive compensation from the responsible party and are urged to contact James Christopher Dean at 888-542-7060 for a free consultation.
Dean believes only a competent oil spill attorney who has experience with environmental law and previous oil spill damages will be able to help them recover loss. James Christopher Dean is more than just that credible of an attorney, living in Texas he understands the need for farmers and appropriated soil. He understands the destructible loss that has been endured from a massive spill. James Christopher Dean is for the people & he has helped thousands of their lives recover from the damages of the BP Oil Spill, and many other disasters to our environment. He is determined to fight for Montana's residents and get the settlement they deserve! http://www.MontanaOilSpill.com
Dean Law Firm Contact Information:
440 Louisiana Street, Suite 1901
Houston, TX 77002
Toll Free: 888-542-7060
About James Christopher Dean:
Christopher Dean has received professional recognition for his accomplishments throughout his tenure. He was appointed as Liaison Counsel in the BP Texas City Explosion case, where he served as a lead lawyer in this huge refinery explosion case. He has participated in several other major cases, including Paxil, Hurricane Ike disputes, and the bus fire case where many nursing home residents burned alive during Hurricane Rita evacuation. Christopher Dean served on the Bar Association's grievance committee in Houston and has been invited to speak in multiple continuing education programs. As a result of Mr. Dean's extensive trial experience in representing those in need, he was invited into and is a member of the American Board of Trial Advocates.In 2005 and 2007, attorney Dean has been included in Texas Super Lawyers. He has also been featured on television and in print, including mention in "H" magazine's Top Houston Lawyers and Best Lawyers for the People. http://www.JamesDeanLaw.com
About Neocaptiva Marketing PR:
For 10 years Neocaptiva Marketing has developed and implemented over 2000 successful national and local marketing programs. Neocaptiva has represented clients such as Hilton Hotels, Trammel Crow Residential, Riverstone Residential, MD Anderson Cancer Center, and more. Neocaptiva Marketing is Located at the Waterway in The Woodlands, Texas . http://www.NeocaptivaMarketing.com
Neocaptiva Marketing PR
21 Waterway Ave #300
The Woodlands, TX 77380
832-428-6574
pr(at)neocaptivamarketing(dot)com
# # #