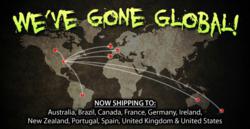 Worcester, MA (PRWEB) July 13, 2011
With so many American jobs being sent abroad, a small company in Worcester, Massachusetts, is going against the current by bringing in a cash flow from international clients. FrightCatalog.com, an online retailer of Halloween costumes and decorations, has recently developed an international shipping program that helps them sell products to countries around the world. With nearly two decades of experience in the Halloween industry, FrightCatalog.com is proving that even small businesses can do their part to support the American economy.
With its huge selection of Halloween products, FrightCatalog.com is on a mission to spread the joy of Halloween. "We are focused on generating revenue from overseas to help grow our business in the U.S.," says Bill Rowell, Vice President of FrightCatalog.com, "and it's the fun and scary nature of our products that really spreads the Halloween love. We offer a shopping experience that gets people excited long before Halloween even hits." Once on the site, customers will see that FrightCatalog.com has categorized their products to ease customer usability, so you find your exact product without difficulty or confusion.
When Halloween rolls around this year, FrightCatalog.com has high quality Halloween decorations, props, and costumes to keep you smiling all night long. With a few exceptions, orders over $100 receive free shipping, which combines nicely with the already low prices of their Halloween products. Whether you are based in the United States or abroad, FrightCatalog.com is your go-to supplier for anything and everything Halloween.
FightCatalog.com's shipping coverage now includes the following countries: Australia, Brazil, Canada, France, Germany, Ireland, New Zealand, Portugal, Spain, and the United Kingdom. No matter the order size, FrightCatalog.com will have your package quickly delivered to your door. Stop struggling to pull together a last-minute costume and let the professionals at FrightCatalog.com supply you with an affordable, dependable costume.
For more information about FrightCatalog.com, or to find out 2011's hottest Halloween costumes, visit http://www.frightcatalog.com.
###