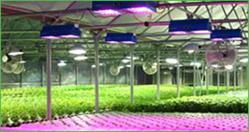 Agriculture hasn't seen a breakthrough this exciting in decades.
San Francisco, CA (PRWEB) July 12, 2011
LumiGrow, Inc. announced today that it has received an undisclosed sum in Series A financing from Clean Pacific Ventures, a leading venture capital fund with a specialization in clean technology companies related to energy, water, agriculture and materials. The financing will accelerate the market expansion of energy-efficient LumiGrow® lighting solutions for commercial agriculture and horticultural research. Clean Pacific Ventures' General Partner and Chief Investment Officer Sean Schickedanz will join LumiGrow's Board of Directors.
"Agriculture hasn't seen a breakthrough this exciting in decades," said Mr. Schickedanz. He explained, "More and more of our crops are grown in illuminated greenhouses, yet legacy lighting technologies frequently cost more to operate than they contribute to the bottom line in yield gains. Growers are moving quickly to replace these inefficient lighting fixtures with LumiGrow solutions to improve yield and cut electrical expenses. It's because of this no-compromise value proposition that LumiGrow is rapidly emerging as the clear leader in a market segment on the brink of exponential growth."
"LumiGrow technology is a giant and irrevocable leap forward for horticultural lighting, and this investment from Clean Pacific Ventures allows us to bring our solutions to new customers faster," said LumiGrow CEO Kevin Wells. He added, "We're thrilled to welcome Mr. Schickedanz to our board. His expertise in guiding clean technology companies to rapid and sustainable growth makes him a tremendous asset to the LumiGrow team."
Common industry practice among greenhouse growers is to supplement sunlight with high-intensity discharge (HID) lighting to boost crop growth and extend growing seasons. But traditional lighting fixtures were designed for general illumination. Most of the light they produce is unusable for photosynthesis; the rest is energy waste. Greenhouse growers are often the leading energy users in their local utility service areas.
LumiGrow LED lighting systems consume 50 percent less energy than the outmoded lighting fixtures they replace because they emit only the color spectrum essential for photosynthesis and healthy plant growth. Energy bill savings, utility subsidies and financing options frequently make a LumiGrow installation a cash-positive or cash-neutral investment that provides substantial savings, year after year.
About LumiGrow, Inc.
LumiGrow, Inc., the leading provider of high-efficiency LED lighting solutions for horticulture, enables commercial growers and agribusinesses to achieve operational efficiencies, reduce energy consumption and improve crop yield. LumiGrow offers a range of third-party proven solutions for use in greenhouses, indoor farms and scientific research chambers. LumiGrow solutions are eligible for energy efficiency subsidies from Pacific Gas & Electric, Puget Sound Energy and other utilities. The Company's 500 commercial and institutional customers include Dow AgroSciences, Duke University and the USDA. Headquartered on Treasure Island in the San Francisco Bay, LumiGrow is privately owned and operated. For more information, call (800) 514-0487 or visit http://www.lumigrow.com.
About Clean Pacific Ventures
Clean Pacific Ventures is a venture capital fund that invests in promising early stage clean technology companies. Clean Pacific focuses primarily on clean technologies related to energy, water, carbon reduction, agriculture and materials. In addition to LumiGrow, the portfolio includes Carbonflow, Clean Power Finance, HydroNovation, Marrone Bio Innovations and SunLink. For more information, visit http://www.cleanpacific.com.
# # #