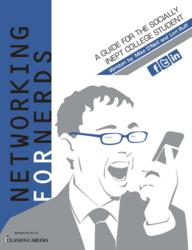 Students spend so much time with their head in books that they fail to realize that being social is just as important
Lehi, UT (PRWEB) July 13, 2011
With the rise of the digital age, social networking is becoming one of the most important resources in finding a job. But many students and job-hunters are at a loss of how to use social media to meet valuable contacts. To help solve the social media stump, ClassesandCareers.com produced an e- book, in conjunction with two LinkedIn experts, to help students learn the ropes and utilize social networking in the professional realm. "Networking for Nerds," written by "LinkedIn Rockstars" Lori Ruff and Mike O'Neil, provides extensive advice and information for creating social networking profiles.
"There's a great expectation in the corporate world that students will understand social media, but they don't always have the business networking experience that goes along with using social media in the work environment," Ruff said. "We want to help them bridge the gap between personal use and professional use."
ClassesandCareers.com, a site dedicated to over viewing different career and education paths, decided to produce the "Networking for Nerds" because the book can be an important resource to all college students, regardless of degree, age or professional goals.
"College is one of the few times you are constantly surrounded by people from all around the world," said Carly Walker, SEO editor for ClassesandCareers.com. "Students spend so much time with their head in books that they fail to realize that being social is just as important. You could be a genius, but fail to get a career if you don't have the social skills and network of contacts needed to make you successful."
By teaming with Ruff and O'Neil to produce "Networking for Nerds, ClassesandCareers.com hopes to add to their resources for current and prospective students across the world. The book is available for for download from the website, so socially timid and shy students can gain the confidence they need to dive into the professional world.
For more information or to download the book, visit classesandcareers.com/advisor/networking-for-nerds-e-book, or email info(at)classesandcareers(dot)com
ClassesandCareers.com is a website for online and campus colleges. They focus on helping students find the best education and career paths for them.
About the authors:
Lori Ruff and Mike O'Neil have been dubbed the "LinkedIn Rockstars." Ruff is among LinkedIn's Top 10 women, as well as an author, speaker and radio host. O'Neil is also a social media speaker and author, as well as LinkedIn trainer for corporate sales teams programs.
###