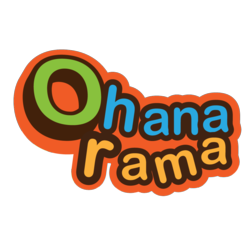 We found it to be a great resource for long-distance family interaction.
Philadelphia, PA (PRWEB) July 12, 2011
Ohanarama, the safe place online where families connect, learn and play together, today announced it has been awarded the PTPA Winner's Seal of Approval and the TRUSTe Children's Privacy Seal certifying compliance with the Children's Online Privacy Protection Act (COPPA). PTPA winners are chosen based on merit and consumer experience by independent parent evaluators for PTPA Media, the international leader in certifying consumer products for quality, effectiveness and value. The Federal Trade Commission has approved the TRUSTe Children's Privacy Seal as a COPPA Safe Harbor program and lets parents know that their kids' information is safe when they join Ohanarama.
"Having Ohanarama certified as secure and validated as a high-quality family destination by two well-respected third parties, PTPA and TRUSTe, means a tremendous amount to us," said Jane Hoffer, Ohanarama Co-Founder, CEO and mother of three. "With these two seals of approval, parents can rest assured that while their kids are having fun playing and interacting with relatives in the Ohanarama family network, they are in a safe, parent-approved online environment."
Sample PTPA Evaluator Testimonials
"After playing around with Ohanarama for a couple of days, and allowing my family to join as well, we found it to be a great resource for long-distance family interaction. There were no ads to be accidentally clicked on by one of the kids and overall the games were fun and enjoyable. I was even highly impressed with the response I received when I sent in a message to the support team. Good customer service says a great deal about a site!"
"I believe it is a great product. It was very easy to navigate my way through. The bright colors and characters on the page were very appealing to our boys. We all had a great time as a family working together to win prizes."
"This site is an easy to use site for all family members. The site has bright colors and visually appealing. I recommend the site for families with younger children."
About Ohanarama
Ohanarama is the safe place online where families connect, learn and play together. The site engages extended family members of all ages by tapping into their natural social and competitive spirit through quizzes, contests and fun family games. Through Ohanarama.com or Facebook, parents set up their kids' accounts and invite family members to join the secure, private family network. Led by technology industry veterans who have launched such products as the JumpStart children's educational series and Zynga's Petville, Ohanarama is also backed by investors such as Charles Huang, the founder of Guitar Hero, and venture capital partners, SoftBank Capital and Contour Venture Partners. Ohanarama is the first product launched by BrainRewards, Inc.
About PTPA Media Inc.
PTPA Media provides an objective framework for appraising and promoting new products designed to enrich family living. The company's mission is to marry innovative companies with discerning consumers, to improve consumer access to quality products and services for their families and homes.
About TRUSTe
As the leading internet privacy services provider, TRUSTe helps thousands of businesses promote online safety and trust, and guides consumers to sites that protect their online privacy. TRUSTe helps both consumers click with confidence and online companies promote their Web site privacy policies online. Thousands of Web sites rely on TRUSTe's privacy, including top-fifty sites like Yahoo, Facebook, MSN, eBay, AOL, Disney, New York Times, Comcast and Apple.
Contacts for Ohanarama
Media Inquiries
Rebecca Blouin
781.591.9818
rblouin(at)ohanarama(dot)com
Co-Founder and CEO
Jane Hoffer
610.420.0655
jhoffer(at)ohanarama(dot)com
###