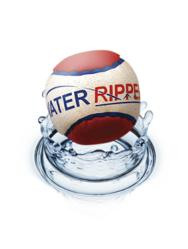 Lake City, FL (PRWEB) July 13, 2011
USA Pool & Toy today announced it has started distributing the unique new water toy, Water Ripper. Available now, Water Ripper™ is different from other water balls on the market due to it's patented density design. This design allows the Water Ripper to roll and skip across the water. WaterRipper is a high performance sports waterball that can be played in and out of the water. The "low profile skip pattern" can cross 165 feet and it stays in the pool.
According to Denise Sanger, President of USA Pool & Toy, Water Ripper™ will be offered as part of USA Pool & Toy's unique wholesale pool toy product line. Sanger said "We look forward to bringing this amazingly innovative toy to the fun swimming pool toy, surf, and beach markets."
Features of Water Ripper include:

Water boarding - Absorbs water density for maximum distance & performance.
Balanced density - Floats just above the water surface. It will never sink!
Low impact design – Collapses on impact. Does not bounce or leave a mark.
Small size - Easy to catch with either hand. Easy for kids to play.
Low Profile Skip Pattern – Easy to see. Easy to control. Stays in the pool.
High visibility - Red, white & blue colors are bright & easy to track
Other unique products in the wholesale pool toy category are Scoobarang, the world's only underwater boomerang, Torpedo Shark Toss, Flip The Frog Swimming Pool Game, Underwater Soccer Ball, Splashy Dashers and more.
About USA Pool & Toy:
USA Pool & Toy is headquartered in North Florida and enjoys distribution to pool, spa, beach, surf and sporting good stores throughout the United States. In addition to manufacturing its own products, USA Pool distributes the Better Things beach and backyard product line, Mindwalk product line, and products from Toysmith and PlayVision. For further information, please visit http://www.usapooltoy.com. The company may be reached at 877/950-7665 or email sales(at)usapooltoy(dot)com.
###