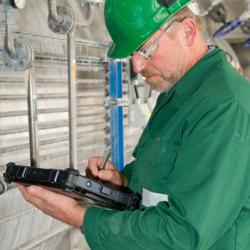 Our number one goal is to help customers succeed; we can do this by putting world-class people behind each project and implementing systems that streamline company processes
Austin, TX (PRWEB) July 12, 2011
With demand for interactive devices in the vertical and emerging markets skyrocketing, touch screen manufacturer, Touch International, unveiled today a comprehensive business alignment program aimed at boosting product quality and improving customer satisfaction.
"It is important for us maximize the value that we are delivering to our customers," explains Michael Woolstrum, Touch International Chief Executive Officer. "We want to make sure that we are not only providing cutting edge touch technology, but that the whole process, from the initial customer inquiry, to the product's final assembly, is smooth and efficient."
Details of the customer support program include implementing additional product and technology training for customer service representatives, more comprehensive follow-ups with customers before and after product shipments, and adding a customer feedback mailbox to the Touch International website.
Complementing the support program, Touch International is applying several manufacturing measures to take its high-touch, high-reliability products to the next level. Details of the manufacturing efforts include:
1) Executing an engineering design review and product part approval process (PPAP) on all components to maximize product consistency and reliability.
2) Adding strategic personnel to the quality, engineering and sales engineering teams to advance product design, quality and customer support.
3) Launching the corporate 5S initiative to enhance company organization and efficiency.
"In a day where customers have several alternatives for their touch screen needs, Touch International must set itself apart from the rest," explains Kelly M. Leff, Director of Marketing at Touch International. "Our number one goal is to help customers succeed; we can do this by putting world-class people behind each project and implementing systems that streamline company processes, giving customers the confidence they need to know that we are the right choice for their display solutions."
About Touch International
Global touch screen manufacturer, Touch International, was founded in 2002 by Michael Woolstrum and touch industry veteran, Gary L. Barrett. Headquartered in Austin, Texas, Touch International is a world leader in touch screen and EMI filter technology. The company, with its partner DMC, Co. Ltd. in Osaka, Japan, operates seven manufacturing facilities worldwide with 1,200 employees. Touch International's factories manufacture Apple iPhone-type projected capacitive touch screens, resistive sensors and glass filter products used in touch screens, EMI, anti-reflective and anti-vandal filters.
###