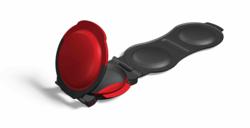 Iselin, NJ (PRWEB) July 12, 2011
Grill masters and cooks may just have found a new best friend – the original, patent-pending, fully loaded Burger Stuffer. The newest product in the Head Chefs LLCTM line of kitchen utensils, the Burger Stuffer allows users to pack a punch of flavor inside their burgers by stuffing their favorite toppings in the middle of the patty. Items traditionally adorning the top of a burger are now safely ensconced inside, using this innovative patty mold.
"The Burger Stuffer elevates burger-making to an art form," said Chef Kyle Hopfensperger, a culinary consultant with Head Chefs LLC. "The ingredients of your choice are tucked inside the burger with this easy-to-use tool, protecting them from being overcooked on a grill or broiler and preserving their flavor which bursts out with every bite."
The Burger Stuffer is the perfect cooking tool to take burger making to the next level, whether at tailgates, for backyard barbeques or a quick weekday meal on the broiler. The Burger Stuffer, which makes a flavor-filled 5-ounce burger, is top-rack dishwasher safe and retails for $19.99.
This must-have tool allows cooks to be supremely creative in their burger-making endeavors. The Burger Stuffer includes a recipe booklet with 12 delicious, easy-to-follow recipes, one of which is the Surf and Turf Burger—perfect for summertime:
Surf and Turf Burger
20 oz. ground beef (5 oz. per burger)
1 lb. knuckle and claw lobster meat or crab meat, cooked
3 cloves of garlic, minced
4 Tbsp. butter
4 cups fresh spinach, packed
½ lemon, juiced
½ lb. Fontina cheese, thinly sliced
4 Hawaiian sweet rolls
Preheat sauté pan. Add butter and garlic. Cook until golden brown. Measure in spinach a little at a time and mix with tongs until wilted. Add lobster and incorporate throughout. Squeeze in fresh lemon and set aside. Using the Burger Stuffer, divide the 5 ounces of meat for each burger into two and press each patty in the Burger Stuffer. Fully load the burger with Fontina Cheese and 2 tablespoons of spinach/lobster sauté. Join both patties and compress. Remove the stuffed patty from the Burger Stuffer and cook on grill or broiler to desired temperature. Toast Hawaiian sweet rolls. Add fully loaded burger. Serve with Old Bay seasoned potato chips. Enjoy!
The entire Head Chefs line of products, including the Burger Stuffer, Headchefs® character-based cooking utensils, Sil-pinTM no-stick rolling pins and non-slip, easy pour Base-BowlsTM, are available online at http://www.headchefs.com.
About Head Chefs LLC™
Head Chefs LLC TM (formerly Fiesta Products, LLC TM), makers of the popular Sil-pinTM line of silicone rolling pins, offers a diverse selection of fun and functional kitchen products that are on the forefront of modern innovation in the industry. The company combines colorful, contemporary styles with high-performance design, making its products a top choice for young chefs and chefs young at heart in professional and home kitchens around the world. For more information on the Burger Stuffer, please visit http://www.headchefs.com and on Facebook.
# # #