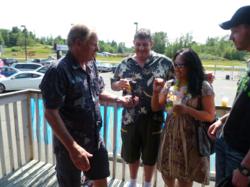 "To drive a scenic 2 hrs north to save approx. $150. per ticket is well worth it. Not only that, there's less walking re the size of the terminal.
We also get door to door service with Wiki Wiki. Flying out of BLI is so easy and relaxed. We love it!
Bellingham, WA (PRWEB) July 13, 2011
Daily non-stop flights to Honolulu and Las Vegas with Alaska Air certainly has caught the attention of both the Canadian market as well locally when they began flying from the Bellingham International Airport earlier this year. What could be better than starting a tropical holiday with a tropical theme right when you park your car at Bellingham's Wiki Wiki Park n Shuttle, located just minutes from the airport off the I-5 with easy on and off access and only 20 minutes south of the Canadian border (approx. 16 miles)?
A recent local radio broadcast with host Dillon Honcoop shared a "new option" in the works of another carrier to fly direct to Hawaii (possibly Maui) in the near future from the Bellingham International Airport. Many people have already been enjoying the benefits of flying from Bellingham direct to Honolulu, both in convenience as well as ticket prices.
New business owners of Wiki Wiki Park n Shuttle anticipated the majority of their travelers to take advantage of their specialized service would come from north of the border, and yet are nicely surprised at the number also coming from south of Seattle area and beyond. Reports are that in obtaining special fares allow a family of four to travel to Hawaii from Bellingham versus the cost of one to fly from the Vancouver International Airport.
Another great bonus for travelers coming from the north side of the border is that they actually clear customs in their car, and not at the airport which reduces potential long line ups for them.
Those traveling from the south by-pass Sea-Tac's International Airport to avoid higher ticket prices as well. Wiki Wiki travelers from the south have mentioned this; "To drive a comfortable and scenic 2 hours north and save approximately $100.-150. per ticket is well worth it. Not only that, there is far less walking regarding the size of the terminal. We also get door to door service with Wiki Wiki Park n Shuttle. Flying out of the Bellingham International is so easy and very relaxed. We love it"
Seems as long as there is easy and affordable get-a-ways available, the recession is not about to affect the travel industry at the Bellingham Airport any too soon, if ever. Wiki Wiki Park n Shuttle also is mindful in keeping their pricing below the cost of the Airport parking fees and has many added benefits to make the complete vacation experience a fun and memorable one.
Wiki Park n Shuttle LLC, established March 2011
4770 Pacific Hwy.
Bellingham, WA 98226
1.888.233.5523
wikiwikiparknshuttle.com
http://www.facebook.com/#!/wikiwikiparknshuttle.com
info(at)wikiwikiparknshuttle.com
Owners; Ernie & Velma Henken
About Wiki Wiki Park n Shuttle:
Once Alaska Airlines announced direct flights to Honolulu from the Bellingham International Airport in the beginning of this year, Ernie and Velma Henken decided this was a good time to introduce a safe, gated and fenced off-site parking area with a tropical theme and cater to such travelers. From their own experience of traveling, the where to find parking... how to get luggage from point A to point B, deal with traffic and uncertainties... or even running a little behind can make traveling somewhat stressful and hard work. Wiki Wiki Park n Shuttle's goal is to take this stress away... and offer a relaxed atmosphere with added fun... ladies receive a silk lei, everyone is offered a family-friendly Hawaiian Mai Tai beverage as Ernie shares a few stories including a small legend. Once the travelers board the Wiki Wiki Shuttle, they are serenaded with Hawaiian music right to the departure curb at the airport.
Upon the traveler's return, the Wiki Wiki Shuttle is waiting at the curbside anxiously waiting to hear of the recent vacation highlights. Once back at the parking facility approximately 3 miles distance on the frontage road of the Interstate 5, fresh Kona coffee is offered as well as hot chocolate to help warm up and wake up the overnight flyers. Everyone leaves with a bottle of water to help keep the hydration up while heading for home. Offering good old fashioned service and fun is what sets Wiki Wiki Park n Shuttle apart.
###