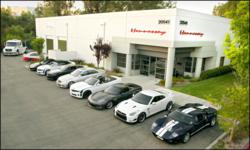 HPE has experienced tremendous growth over the last several years. A larger [Southern California] facility was a necessary step in this growth process
Lake Forest, CA (PRWEB) July 12, 2011
Hennessey Performance (HPE) is proud to announce the opening of its new, larger Southern California facility in Orange County.
The completion of the 10,000 square foot facility provides Hennessey with an even greater level of sales, service and available performance upgrades for clients in Southern California and surrounding regions.
"We are excited to be able to share this larger facility with fellow automotive performance enthusiasts in the area," says Hennessey CEO, Don Goldman. "We offer many of the same upgrades as our Texas headquarters, but in a more convenient location for our West Coast clients. This saves on vehicle transportation and time while also allowing us the opportunity to service our clients' vehicles after the sale."
The area – a hotbed for performance-minded and car-centric enthusiasts – is the logical choice for Hennessey Performance's brand of high horsepower upgrades. From its new location, Hennessey will produce its popular lines of upgrade packages for vehicles like the Camaro SS, Corvette, Cadillac CTS-V, Nissan GT-R and the Ford F-150 Raptor, among others. The facility features seven services bays, a metal and fabrication shop and an in-ground Dynojet chassis dynamometer for vehicle testing and calibration.
"We are a customer-centered, customer-driven high-performance company," says HPE founder & president, John Hennessey. "HPE has experienced tremendous growth over the last several years. A larger facility was a necessary step in this growth process as it was driven by the demand from our clients in California and surrounding states.
###