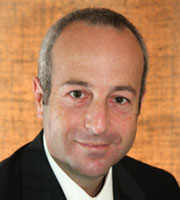 Newburgh, NY (PRWEB) July 12, 2011
The National Trial Lawyers has named Andrew G. Finkelstein, the managing partner of the law firm Finkelstein & Partners, LLP in Newburgh, New York, as a new member of its Executive Committee. Finkelstein joins a prestigious list of some of America's most successful attorneys on the committee. Finkelstein is a noted consumer activist representing injured individuals against corporate wrongdoers or irresponsible parties.
Mr. Finkelstein has litigated wrongful death and personal injury cases arising from defective drug and products, automobile accidents, falls due to defective conditions, dog bites, bus accidents, motorcycle accidents, construction site accidents and air craft crashes. In addition to winning several awards for his outstanding career, Finkelstein has handled dozens of multi-million dollar cases.
Following 9/11 Mr. Finkelstein served as Captain of the 9/11 Victim Compensation Fund through Trial Lawyers Care. Finkelstein & Partners, through Mr. Finkelstein's oversight, obtained over $10 million for victims and waived all legal fees associated with this representation.
The National Trial Lawyers is a national organization composed of The Top 100 Trial Lawyers from each state. Membership is obtained through special invitation and is extended only to those attorneys who exemplify superior qualifications of leadership, reputation, influence, stature, and profile as civil plaintiff or criminal defense trial lawyers. The website for The National Trial Lawyers is: http://www.thenationaltriallawyers.org.
Headquartered in Newburgh, NY, Finkelstein & Partners, LLP has been successfully serving clients for more than 50 years. Offices are located throughout New York and New Jersey and services include: Personal Injury, Social Security Disability Benefits, Workers' Compensation, Veterans Services, and a complete range of personal legal documents and letters. Having won tens of thousands of personal injury cases, our experience is proven. In the past decade, we have obtained hundreds of thousands of verdicts or settlements, with awards ranging from $500,000 to $34,000,000. While we have established our reputation as the law firm to retain when seeking top-dollar verdicts or settlements from insurance companies, your satisfaction is our primary goal. To learn more, visit the firm's website at http://www.lawampm.com or call 1-800-Lawampm / 1-800-529-2676.
###