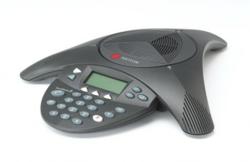 San Francisco, CA (PRWEB) July 12, 2011
TheHeadsetShop is proud to announce the new selection of Polycom conference phones, Konftel conference phones and ClearOne conference telephones. Venturing in the conference call industry was a no brainier for TheHeadsetShop as creating a one stop shop for all business telephonic needs was a main goal for the company. Wireless conference telephones are becoming more and more popular in today's work spaces, Polycom offers one of the best in the industry with the Polycom SoundStation 2W wireless conference phone. Some of the new and featured conference telephones that TheHeadsetShop.com offers include:
Polycom SoundStation 2 Conference Phone

This conference telephone is one of Polycom's signature models and offers a variety of features and benefits.
Works great for conferences between 8 and 10 people. Perfect for typical conference rooms small to medium in size.
Includes a LCD Screen and a 360 degree microphone with noise canceling technology to block out unwanted background noise.
Remember like most conference telephones this model works with Analog telephone lines only. An additional Konexx Adapter may be purchased to convert Digital to Analog phone lines.
There are few different models of the Polycom SoundStation 2 conference phone depending on preferences. One model and the more affordable solution is the basic version which does not have an LCD screen and is non expandable. The version listed above is the non expandable model but the same features are available for what's called an expandable model. This model has the capability to add on two Polycom conference phone expansion microphones for bigger conference rooms of up to 25 people.
Polycom SoundStation 2W Wireless Conference Phone
This conference telephone is very similar to the SoundStation 2 Expandable Model and has a lot of the same features.
One of the main differences between the two conference phones is that the SoundStation 2W is a wireless conference phone.
Roaming distance up to 150 feet away from telephone line.
Also includes a LCD Screen which is Backlit
Ideal for Small to Medium conferences and up to 10 people
Expandable allowing two Plantronics Expansion Mics to connect for bigger conferences of up to 25 people.
The Konexx Adapter is available as well for this model that converts Digital phone lines into an Analog signal for compatibility.
Wireless conference phones are popular and very convenient for conference rooms. Without cables and long wires wireless conference phones are ideal to keep your conference safe and neat.
TheHeadsetShop also started carrying ClearOne conference phones along with Konftel conference phones which are very competitive in the market. The ClearOne Max EX is one of ClearOne's signature models and best selling conference phone. Konftel is known for their best selling wireless conference phone the Konftel 300 Wireless which is a very good choice when going wireless in the conference room. Some models allow the use of a wireless headset as well.
TheHeadsetShop.com is still known for their huge inventory and selection of telephone headset, wireless headset, GN Netcom wireless headset and Plantronics headset solutions for call centers and professional businesses. Don't forget to visit to visit http://theheadsetshop.com to redeem a 10% discount on all purchases by using Coupon Code – ths877 upon checkout.
Contact:
For more inquires please feel free to email sales at theheadsetshop.com or call 877-656-9526.
###