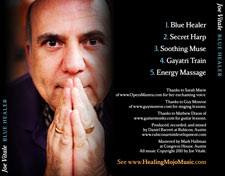 Wimberley, TX (PRWEB) July 12, 2011
Joe Vitale, a star in the hit movie The Secret and author of numerous bestselling books, such as The Attractor Factor, introduces his first ever original CD, entitled Blue Healer.
Blue Healer is a fusion genre CD that is specifically designed to move energy through you and help you feel great. This transformational CD uses a combination of ancient chants, blues, new age, and trance music that provides hypnotic healing powers based on ancient principals and sounds, designed to get you into synch – and keep you there.
Vitale teamed up with two of his favorite people --- modern Flamenco guitarist Mathew Dixon and singer/songwriter Sarah Marie – and urged all of them to create original healing music. They each gave themselves two months to complete their individual projects, starting from zero. They succeeded.
Vitale states that "The idea behind all of these breakthrough audios is to allow the high vibration of inspired music to work on you. Blue Healer will inspire you. Blue Healer will open your creative mind. Blue Healer will re-tune your internal guitar strings so you too can begin experiencing life and perfect harmony and rhythm."
Vitale played as many as seven instruments to create this music, including a very rare 1915 Gibson Harp Guitar. He says "The five tracks on Blue Healer are designed to be played as you meditate, work, play, drive, or rest. They are powerful. They move energy. They invoke spirit. Some are relaxing. Some are igniting. It rumbles your energy and stirs your soul."
According to many of the lucky people that have already gotten a 'sneak listen' to Blue Healer, it is a work of art that is quite the journey through sound and emotion.
He also makes note that three pertinent factors allowed this project to come to fruition before their pre-set completion date by using some Law of Attraction principles.
1. Having a clear intention
2. Setting a deadline
3. Taking action
He invites people to employ #3 above to listen to a sampler and get a copy of Blue Healer today at http://www.healingmojomusic.com.
Contact:
Suzanne Burns
512-278-1610
###