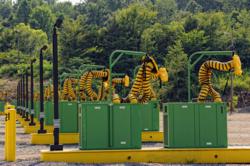 EnviroDock is looking forward to providing TR's drivers with a low-cost and environmentally friendly alternative to idling
Ashland, VA (PRWEB) July 21, 2011
EnviroDock, Inc., and TR Auto Truck Plaza have completed a truck stop electrification project at TR Auto Truck Plaza in Dandridge, TN.
"We are excited to announce EnviroDock's first truck stop electrification project in Tennessee," explained Kenneth Neal, President of EnviroDock. With the installation of EnviroDock's E-Dock and PowrDock units, TR Auto Truck Plaza now offers 30 parking spaces equipped with services that enable drivers to shut off their engines while they rest. The truck stop is equipped with 20 E-Dock units that provide heating and cooling (HVAC) and 10 PowrDock shorepower pedestals that give truck drivers who don't need HVAC a place to plug in.
This truck stop electrification (TSE) project was funded by an American Resource and Recovery Act stimulus grant through the U.S. Environmental Protection Agency's National Clean Diesel Campaign and the Tennessee Department of Transportation (TDOT). The grant was awarded to TR Auto Truck Plaza, located off exit 412 on I-40 in east Tennessee. After a competitive bid process from potential TSE providers, Rick Lewis, owner of TR Auto Truck Plaza, selected EnviroDock, Inc. as his vendor of choice.
"This has been a great effort by Rick Lewis, owner of TR Auto Truck Plaza, and TDOT that made this installation possible," Neal said. "EnviroDock is looking forward to providing TR's drivers with a low-cost and environmentally friendly alternative to idling.
"We are pleased to help provide truck drivers with a way to be comfortable in their truck cabs without idling their engines," said TDOT commissioner John Schroer. "Idling creates harmful diesel emissions that can affect the health of truck drivers and other truck stop patrons. Diesel emissions also contribute to poor air quality," Schroer said. "TSE allows truckers to save fuel, save money and get better rest."
The E-Dock Stationary is a stand-alone heating, cooling and power system. This unit delivers electronically-filtered and temperate air to the truck cab through two thermally insulated flexible ducts via a window control panel. This patent pending window unit is attached to a swinging arm which makes installation into the cab window as simple and weightless as possible. An easy-to-use control panel allows drivers to adjust temperature and fan speed. Drivers also have access to a duplex power outlet for in-cab appliances such as microwaves, computers and coffee makers. Additionally, the E-Dock system provides a duplex power plug on the outside unit for engine block heaters and any other power requirements.
The PowrDock units are shorepower enabled pedestals that provide those drivers that simply need electricity with a place to plug in. Each unit comes equipped with a 30amp and 20 amp electrical service that allows drivers to plug in their auxiliary powered units (APU's), engine block heaters, or any in-cab appliances they may have.
About EnviroDock:
EnviroDock, Inc is a privately owned corporation that was formed in 2007 to address trucker's needs for affordable alternatives to the very costly and environmentally damage practice of idling. Headquartered in Ashland, VA, EnviroDock has become an innovator in truck electrification systems. Whether it is our E-Dock Stationary, which is a stand alone, highly efficient HVAC and power system, or our simple PowrDock shorepower pedestal, EnviroDock can save the average long-haul driver over $8,000 per year in diesel and maintenance costs that is a direct result of idling.
Keeping with our philosophy as the innovators in the industry, EnviroDock is in development of a patent pending portable truck electrification unit that is powered by a rechargeable battery pack. This revolutionary system, called the Mobi-Dock System, will allow site owners to deliver our same high quality HVAC and power capabilities, but without the disruption of business that the typical truck stop electrification installation causes on its parking area. Simply tow it out when it's needed, and tow it back when it's not. It is a one of a kind product only offered by EnviroDock, Inc.
For additional information contact:
Tom Greene
Project Manager
EnviroDock, Inc
tgreene(at)envirodock(dot)com
http://www.envirodock.com
Ph: 800-886-6757
###