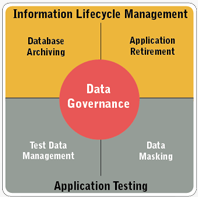 Santa Clara, CA (PRWEB) July 12, 2011
Solix Technologies, a leading provider of enterprise data management solutions, along with Hexaware Technologies today announced that it would be hosting a Webcast on Best Practices and Trends for Archiving PeopleSoft Enterprise Data.
The Webcast will be presented by Jnan Dash, Executive Consultant in Silicon Valley and Vishal Rao, Senior PeopleSoft Consultant, Hexaware on Wednesday, July 20th 2011 from 11:00 am – 12:00 noon (PST).
Companies once managed megabytes and gigabytes, they now handle terabytes and petabytes of data. Enterprise data represents the most valuable corporate asset. Collecting, managing, maintaining, storing and protecting this data requires a huge capital and IT investment. So it is not a surprise that there are strong incentives for IT organizations to apply the best technology and processes to perform data management tasks faster, better and in a more cost effective manner.
Whether utilizing PeopleSoft HCM, EPM, CRM or Financials; the growth of Application Data can have a profound effect on the application performance and IT infrastructure costs. An effective ILM strategy is required to manage the growing applications data and minimize the subsequent cost through Applications Data Archiving.
During this webinar you will learn how Solix EDMS Database Archiving for PeopleSoft Applications and Hexaware IT services provide best practices for Archiving PeopleSoft Applications Data.
To register for the Webinar please Click here
For more information contact Solix Technologies, Inc at 1.888.GO.SOLIX or 1.408.654.6400; email: solix_sales(at)solix(dot)com or visit http://www.solix.com
About Hexaware
Hexaware, an Oracle Platinum Partner, is a leading global provider of IT, BPO and consulting services. Hexaware's core expertise spans consulting, testing implementation, integration, development and support services across major enterprise software systems such as PeopleSoft, Oracle, SAP and Microsoft. Founded in 1990, Hexaware has grown to over 6, 600 employees delivering value to its clients through 32 offices and development centers worldwide with certifications of CMMI Level 5, ISO 9001 & ISO 27001, SAS 70 Type II and PCI DSS.
About Solix Technologies, Inc.
Solix Technologies, Inc., a leading provider of Enterprise Data Management solutions, helps businesses to improve application performance, reduce storage costs, meet compliance and data privacy requirements by achieving Information Lifecycle Management (ILM) goals, Data Governance strategies, and efficiently transition to Cloud infrastructure. Solix Enterprise Data Management Suite (Solix EDMS) software enables organizations to implement Database Archiving, Test Data Management (Data Subsetting), Data Masking and Application Retirement across all enterprise data. Solix ExAPPS Appliance is an integrated set of Server, storage and software components for Application Retirement all bundled into a single device. In partnership with leading application and storage vendors, Solix provides integrated ILM, cloud enabling and Data Governance solutions for today's heterogeneous environments. Solix has an extensive global client base, including Fortune 500 companies, and is widely considered the standard for enterprise data management. Solix Technologies is headquartered in Santa Clara, California and has an established worldwide channel program of value added resellers (VARs) and systems integrators.
Visit Solix Technologies on the web at solix.com and follow Solix on Twitter (twitter.com/solixedms) and Facebook (facebook.com/solixtechnologies).
Media and Analyst Contact:
media(dot)relations(at)solix(dot)com
408-654-6514
# # #