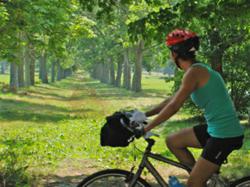 Two autumn cycling vacations—one coastal, one fall foliage—celebrate New England during its best biking season.
Newburyport, MA (PRWEB) July 12, 2011
Biking New England in the fall has a special mystique. The tourist crowds of summer have all gone home. August's steamy sizzle has been replaced by the crisp, fresh air of a new season. Farm stands overflow with seasonal bounty, and hot cider is the beverage do jour. Savvy cyclists know that this is the best time of year to be out on their bikes. Massachusetts-based Easy Rider Tours has planned two New England cycling vacations to celebrate the region's autumn biking at its finest.
The cycling route for Easy Rider's "Coasting New England" bike tour follows the Atlantic coastlines of three states—Massachusetts, New Hampshire, and Maine. Miles of scenic ocean views are bookended by thousand-acre Crane Beach in Massachusetts and picturesque Nubble Light in Cape Neddick, Maine. Each day's bike ride ends in a lively seaport town; accommodations include historic four-star inns and the oceanfront Colony Hotel in Maine, a National Historic Landmark. Fresh seafood highlights every menu, and lobster aficionados can indulge to their hearts' delight. "Gentle terrain, great ocean views, and relatively easy riding make this a perfect trip for bikers trying a cycling vacation for the first time," says Easy Rider founder Jim Goldberg. The price for the 6-day New England coast bike tour is $2,295 per person; fall cycling trip dates for 2011 are September 18-23.
In western Massachusetts, Easy Rider's "Autumn in the Berkshires" fall foliage bike tour in early October is timed to celebrate New England's fall colors at their peak. "There's no better way to take in the fall colors than from the seat of a bike," says Goldberg. "Pedaling under a canopy of autumn leaves is one of the joys of the cycling year. We've had guests come from as far away as England and Australia for our Berkshires tour." Accommodations are in historic country inns that span over 200 years of history. The Berkshire region is renowned for its lively arts and culture scene, and cyclists take breaks from pedaling to visit artists' studios, Hancock Shaker Village, and the Norman Rockwell Museum. (Rockwell was a Berkshires resident and an enthusiastic cyclist as well.) The price for the 6-day fall foliage bike tour is $2,395 per person; trip dates are October 2-7 and October 9-14.
Trip prices for both New England bicycle tours include all accommodations, most meals, museum admissions, and use of a high-quality 27-speed bicycle. Each group is accompanied by two experienced cycling guides who are also expert mechanics. A support van comes along to carry luggage, provide snacks, and offer any assistance bikers might need (including a lift for the occasional tired cyclist).
For a free catalog or more information on Easy Rider's cycling vacations in New England and bike tours in Europe and Canada, contact Easy Rider Tours at 800-488-8332 or visit http://www.easyridertours.com.
About Easy Rider Tours
Since 1986, Easy Rider Tours has specialized in biking vacations in New England, Ireland, Portugal, Spain, and the Canadian Maritimes. Each of Easy Rider Tours' itineraries provides the company's signature balance of cycling, culture, and cuisine, delivering the experience of a lifetime to active travelers worldwide.
Website: http://www.easyridertours.com.
# # #